2019 Toronto: Paul Henderson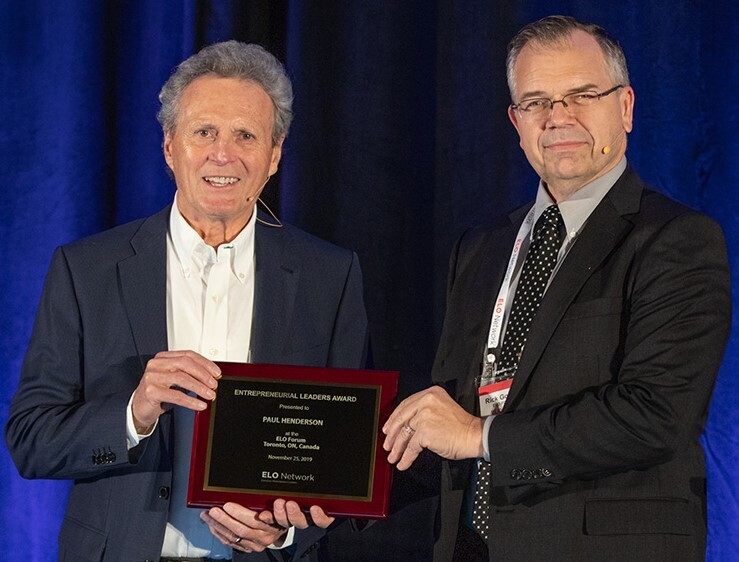 Dr. Richard J. Goossen, Chairman, ELO presenting the Entrepreneurial Leaders Award to Paul Henderson at the ELO Forum in Toronto on Nov. 25th, 2019.
Paul Henderson, Canadian hockey legend, Toronto, ON – Few people in Canada could truly be described as a "legend," but Paul Henderson is among that small number. He will be forever immortalized as the person who scored three game-winning goals in the fabled Canada-USSR 1972 hockey series, including "The Goal" in the final game. Paul was presented with the Entrepreneurial Leaders Award by Rick Goossen, Chairman, ELO, at the ELO Forum in Toronto on November 25, 2019. Paul received a well-deserved standing ovation.
Paul began his hockey career in Lucknow, Ontario. After winning the Memorial Cup in 1962 with the Hamilton Red Wings, he moved to the NHL. Paul played 18 years of professional hockey with the Detroit Red Wings, Toronto Maple Leafs and Atlanta Flames.
Paul is best known for his pivotal role in the 1972 Canada-USSR Series when Canada needed a victory in each of the last three games to win the series. Amazingly, Paul scored the winning goal in each of the three games. His winning goal in the last game is regarded as one of the greatest sports moments in the last century, and Team Canada '72 was voted the Team of the Century by the Hockey Hall of Fame.
Paul has been honoured by Canada's Sports Hall of Fame on two occasions: he was first inducted as an individual in 1995, and again ten years later along with his 1972 teammates. The Summit Series team has also been honoured with a star on Canada's Walk of Fame. Henderson has been inducted into the Ontario Sports Hall of Fame (1997), the International Ice Hockey Federation Hall of Fame (2013) and has been honoured by Hockey Canada with the Order of Hockey in Canada as part of its 2013 class. He was named a Member of the Order of Canada in December 2012 in recognition of "his engagement in support of a range of social and charitable causes" along with his achievements on the ice. In 2014, he was named to the Order of Ontario.
Paul has not only succeeded on the ice but also in the lives of literally thousands of individuals. Paul currently serves with LeaderImpact which he founded in 1985. His full-time ministry involvement has lasted almost twice as long as his professional hockey career. He refers to himself as an exhorter and an encourager. He wants to encourage people to go deep and finish strong. He has been an inspiration for many marketplace leaders.