2013 Vancouver: Mark Burnett & Roma Downey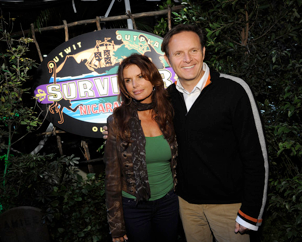 Mark Burnett, creator of Survivor and named by Time Magazine in 2004 as one of the "100 Most Influential People in the World," and his wife, Roma Downey (well-known for her starring role in "Touched by an Angel") were joint recipients of the 2013 ELO Entrepreneurial Leader Award presented in joint initiative with World Evangelical Alliance at the ELO Conference in Vancouver, BC on November 14th, 2013.
Geoff Tunnicliffe, Secretary-General, World Evangelical Alliance, described Mark Burnett and Roma Downey as very worthy joint recipients of the 2013 award. He cited their work with charities, support of Religious Liberty, and their initiation of the production of "The Bible" series for The History Channel. As recipients of the Entrepreneurial Leader Award, Mark Burnett and Roma Downey will provide the keynote address at the Entrepreneurial Leaders Conference.
Mark Burnett is best known for producing the hit reality show, Survivor, which premiered in the summer of 2000 and was the most watched summer series since Sonny and Cher. Survivor was named the Number 1 reality series of all time by Entertainment Weekly in 2009. Burnett has produced several other television franchises in addition to Survivor, including The Apprentice. He serves as the executive producer of The Voice. Other series produced by Burnett include Are You Smarter Than a 5th Grader? and Shark Tank. Mark Burnett has a one-of-a-kind entrepreneurial journey, from his working class roots in England, to being a British paratrooper in the Falklands, and then to the US and Hollywood. He married Roma Downey in 2007. They are both deeply committed to their Christian faith.
Roma Downey is an actress and producer from Northern Ireland. She is well known for playing the kind-hearted angel Monica on the TV series Touched by an Angel. Downey received two Emmy and Golden Globe nominations for her role on the show. She is the executive producer of the recently-released television miniseries The Bible on the History channel. Roma Downey, together with Mark Burnett, produced The Bible, a television series viewed by over 100 million people worldwide, based on the key biblical stories. Downey also plays the role of Mother Mary in the series. Downey has been a tireless and enthusiastic advocate for The Bible Series in countless media interviews around the world.