Leadership Program
A one-week, transformative learning experience in Oxford for Christian business leaders

---
The Entrepreneurial Leaders Programme (ELP) is held every summer at the University of Oxford, UK. It is a week long learning experience for senior executives, business leaders, and entrepreneurs from around the globe. Expert guest presenters teach throughout the week. Mealtimes are spent connecting and networking with the great cohort of peers that attend. Tours are taken together to view the sites that Oxford has to offer. You don't want to miss out on this incredible opportunity to travel, learn more about your calling, and grow in your faith!
"Imagine: a full week of classes taught by some of the finest thinkers and teachers on this planet in the most prestigious university in the world, Oxford University, all while learning and interacting with fellow Christian leaders." - Dr. Peter Legge, O.B.C., CSP, CPAE, HoF
"I would definitely recommend the ELP at Oxford to business leaders who are interested in a better understanding of how God is working in them in their workplace. It is inspiring to closely connect with such a group of high-level Christian entrepreneurs." - Glenn Hofland, President, John G. Hofland Ltd.
"ELO Oxford program provides an opportunity to reflect deeply on how your vocation, family and faith fit together. Having world-class instruction and unique experiences are just the icing on the cake. Great practical takeaways for improving your personal impact. Rekindled a love of learning." - Justin Currie, CPA, Principal, Legacy Business Advisory Services
When does this programme take place?
This year's ELP was held from August 14-20, 2022. Dates for the 2023 ELP will be announced soon!
Who are the expert instructors of the programme?
Our roster of presenters this year included Dr. Isabella D. Bunn, Dr. Katy Granville Chapman, Dr. Bill Foo, Revd Dr. Richard Turnbull, Dr. Manuel Guillen, Dr. Robert Ellis, N.T. Wright, Sir Andrew Pollard, and John Lennox.
Where is this programme hosted?
The ELP 2022 was hosted at Christ Church College in Oxford, UK. This is one of the 45 colleges that are a part of the University of Oxford.
---
To see our ELP from previous years, click on the links below.
Oxford ELP 2018 Oxford ELP 2019
---
---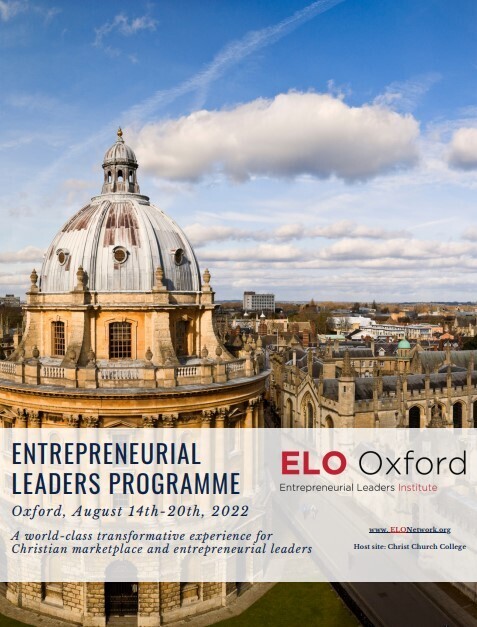 Want more information?
View our detailed brochure here:
---
About ELO
Dr. Richard (Rick) J. Goossen serves an extensive network of high net worth entrepreneurs and family/business owners built over decades of client contributions, collaboration, research, lecturing, and volunteering. He is a sought-after strategic counsel and chair/advisory board member. Rick created the ELO Network in 2005 to connect, equip, and celebrate Christian entrepreneurs and marketplace leaders. Since then, he has hosted over 100 events and business conferences around the world and has successfully led Christian entrepreneurs and marketplace leaders to find meaning in their work.