Promod Haque, Silicon Valley, USA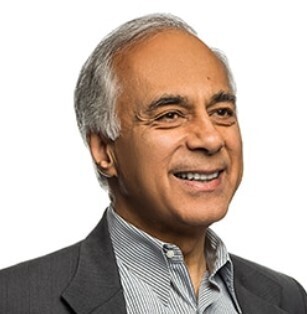 Promod Haque has 31 years of experience in the venture capital industry and currently serves as a managing partner at Norwest Venture Partners. Promod joined Norwest in 1990 and has invested in more than 70 companies since he began his venture career. His investments have been worth more than $40B in aggregate exit value to date, as 25 of his portfolio companies have gone public and 37 have been acquired (or have gone public and been acquired). In 2014 and 2016, Forbes recognized Promod as a "Hall of Fame" investor. 2017 marked Promod's thirteenth appearance on the annual Forbes Midas List, including 2004, when he was ranked the #1 venture capitalist based on performance over the previous decade. In 2006, Promod was presented with a Global Leadership award from NASSCOM, and he was honored with the 2011 SV Forum Visionary Award based on his outstanding achievements and contributions to the technology industry.
Recent liquidity events in Promod's portfolio include Health Catalyst (Nasdaq: HCAT), provider of data and analytics technology and services to healthcare organizations, online fraud and abuse prevention leader Shape Security (acquired by F5 for $1B), API management leader Apigee (acquired by Google; Nasdaq: APIC); cybersecurity leader FireEye (Nasdaq: FEYE); Skybox Imaging, a commercial high-resolution satellite imagery, high-definition video and analytics services company that was acquired by Google for $500 million; and cloud security leader Palerra, which was acquired by Oracle. In addition, NTT Communications acquired Virtela for a total transaction price of $525 million. Promod was the founding investor and Chairman of the Board of Virtela, which is a company that Norwest incubated.
Promod focuses on investments across a wide variety of sectors including systems and IT infrastructure, healthcare IT, software, and services. His current investments include Brite Semiconductor, CognitiveScale, Copper, Dtex Systems, Obsidian Security, PCH International, Prevedere, Simpplr, SlashNext, Sulekha, TrustLogix, Vanu, and ZineOne.
He was an early investor and a board member of FireEye (Nasdaq: FEYE), Cerent (acquired by Cisco), Cast Iron Systems (acquired by IBM), Cyan (NYSE: CYNI), Siara Systems (acquired by Redback Networks), OnDisplay (acquired by Vignette), Winphoria Networks (acquired by Motorola) and Extreme Networks (Nasdaq: EXTR). Other notable investments and previous board seats include Skybox Imaging (acquired by Google), Tivoli Systems (acquired by IBM), Forte Software (acquired by Sun Microsystems), Kiva Software (acquired by Netscape), InsightsOne (acquired by Apigee), Information Advantage (acquired by Sterling Software), Arbortext (acquired by PTC), Open-Silicon (acquired by Unicorn Investment Bank), Resonext Communications (acquired by RF Micro Devices), Showcase (acquired by SPSS), Yipes (acquired by Reliance/Flag Telecom), AmberPoint (acquired by Oracle), Veveo (acquired by Rovi), ZettaCom (acquired by IDT), and NVE Corporation (Nasdaq: NVEC – Norwest was the Series A investor in 1991).
Prior to Norwest Venture Partners, Promod spent 18 years in various operational roles ranging from product development, marketing, Chief Operating Officer and CEO at various public and private companies including Siemens International, Thorn EMI, Emergent Technologies, and Dimensional Medicine, Inc.
He received a Bachelor of Science degree in electrical engineering from the University of Delhi, India. He holds a Ph.D. in electrical engineering from Northwestern University and an MBA from Northwestern's Kellogg Graduate School of Management, where he serves on the advisory board.