Phil Cooke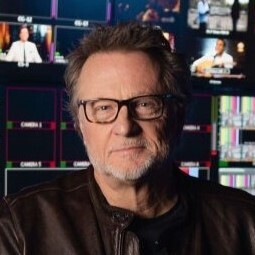 Phil Cooke, Co-Founder & President, Cooke Media Group
Los Angeles, CA, USA
---
About the Presenter
Phil Cooke works at the intersection of faith, media, and culture, and he's pretty rare – a working producer in Hollywood with a Ph.D. in Theology. His client list has included studios and networks like Walt Disney, Dreamworks, and USA Network, as well as major Christian organizations from Voice of the Martyrs, The Museum of the Bible, The Salvation Army, The YouVersion Bible app, to many of the most respected churches in the country.
He's produced TV and film programming in more than 60 countries around the world, and in the process, been shot at, survived two military coups, fallen out of a helicopter, and in Africa, been threatened with prison. And during that time – through his company Cooke Media Group in Los Angeles, California – he's helped some of the largest Christian and nonprofit organizations in the world use the media to tell their story in a changing, disrupted culture.
Phil produced and directed the television specials on the "Nativity Cribs of Malta" for Museum of the Bible, and "Inexplicable: The Rise of Christianity in Asia," and Produced of "The Insanity of God" a feature documentary that premiered nationally as a Fathom Event. According to former CNN journalist Paula Zahn, Phil is rare – a working producer in Hollywood with a Ph.D. in Theology. He's appeared on NBC, MSNBC, CNBC, CNN, Fox News, and his work has been profiled in The New York Times, the Los Angeles Times, and The Wall Street Journal.
His book "One Big Thing: Discovering What You Were Born to Do" helps you find the great purpose and calling for your life – and was named by the Washington Post as one of the Top Five Business Books for 2012. His book, "Unique: Telling Your Story in the Age of Brands and Social Media" is changing the way churches, ministries, and nonprofits engage today's culture with their story. Co-written with Jonathan Bock, "The Way Back: How Christians Blew Our Credibility and How We Win it Back" takes a hard look at why today—particularly in the media—Christians are dismissed as irrelevant. Cooke and Bock show the Christian community how we can once again astonish our critics, and in doing so, completely transform the world for good. His book is "Maximize Your Influence: How to Make Digital Media Work for Your Church, Your Ministry, and You" is the ultimate reference book for pastors and Christian leaders in today's digital age.
A different writing project yielded "Unique: The Ultimate Planner for Creative Professionals." In a time when most creative professionals are working with online productivity tools and apps for team communication, the Unique Creative Planner is a powerful print notebook that brings today's priorities, tasks, and events together so your creative thinking can be released.
Phil's most recent book is "Ideas on a Deadline: How to Be Creative When the Clock is Ticking" published by the Inspire Collective. It's the definitive book for creative people who have to deliver breakthrough ideas on demand.
He's lectured at universities like Yale, University of California at Berkeley, UCLA, and is currently a visiting professor at Oral Roberts University in Tulsa, Oklahoma. In addition to writing his blog at philcooke.com, he's contributed to The Huffington Post, Fast Company, Forbes.com, Wired.com, and FoxNews.com. Phil is on the Advisory Boards for The Salvation Army and The Hollywood Prayer Network and has been a long time member of the Academy of Television Arts and Sciences and The Producers Guild of America in Hollywood.
---
About the Presentation
Topic: "The 10 Secrets of Becoming a Creative Leader"
Creativity is the currency of this generation and yet few leaders are equipped to inspire and lead creative professionals. There is plenty of information available about leadership, but very little on leading creative teams. You'll walk away with 10 critical skills that will help you foster a culture that will attract and inspire creative people to accomplish amazing things.
---
Watch this interview, conducted by Rick Goossen, with Phil Cooke:
---
Read ELO's four part blog interview with Rick Goossen and Phil Cooke