2016 Toronto: John Maxwell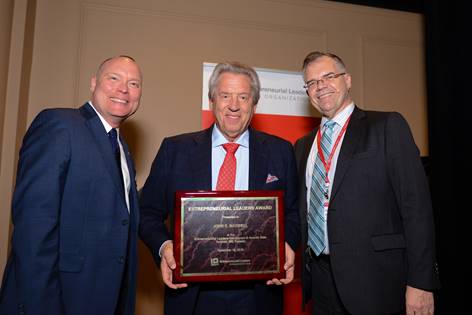 John Maxwell receives ELO Entrepreneurial Leaders Award in Toronto on Nov 16th, 2016 from Jeff Williams, Absolute Results (on left) and Richard J. Goossen, Chairman, ELO (on right).
Bio: John C. Maxwell is a #1 New York Times bestselling author, coach, and speaker who has sold more than 26 million books in fifty languages. He started off as a full-time pastor in a small church in Ohio and over the years has evolved into the world's foremost leadership expert. He still preaches occasionally at his home church in Florida and his leadership principles, either explicitly or implied, reflect his Christian worldview. In 2014 he was identified as the #1 leader in business by the American Management Association® and the most influential leadership expert in the world by Business Insider and Inc. magazine. As the founder of The John Maxwell Company, The John Maxwell Team, EQUIP, and the John Maxwell Leadership Foundation, he has trained more than 6 million leaders. In 2015, he reached the milestone of having trained leaders from every country of the world. The recipient of the Mother Teresa Prize for Global Peace and Leadership from the Luminary Leadership Network, Dr. Maxwell speaks each year to Fortune 500 companies, presidents of nations, and many of the world's top business leaders. He can be found on Facebook and Twitter. For more information about John visit JohnMaxwell.com.
FOR MORE INFORMATION ON THE ELO SITE: see the blog post by Dr. Richard J. Goossen titled "John C. Maxwell & Intentional Living" published on March 29, 2016.