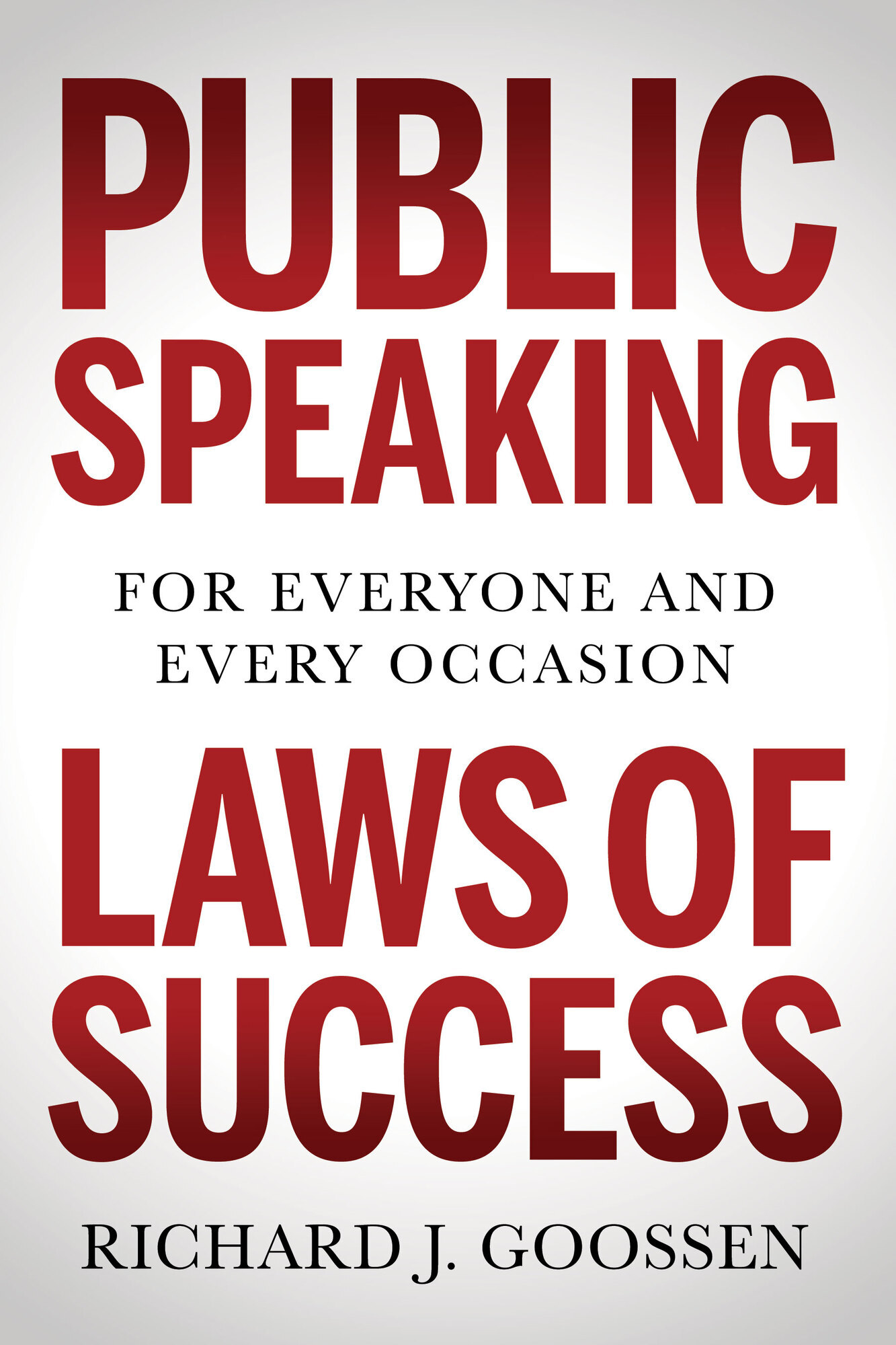 Public Speaking Laws of Success: For Everyone and Every Occasion (New York, NY: Morgan James) by Richard J. Goossen will be released on September 28, 2021! Prior to the public release and distribution at bookstores, copies are available in bulk directly through ELO. For further information on individual review copies or bulk sales contact: Admin@ELONetwork.org.
Leading up to the publication of the book, we will be posting a series of blogs related to public speaking laws of success discussed in the book.
---
Years ago, my good friend Malcolm Gladwell and I spoke together at a conference for a combined fee of $100,000. We both performed admirably well and collectively spoke before over 1,000 attendees!
I hope you are impressed. Well, actually, there are a few more details. Malcolm did the keynote for $100,000. I was way down on the undercard and was paid what I was worth at the time—zero. I consider him a good friend, having shaken his limp hand once, but I suspect my characterization of our relationship is not reciprocated. We both spoke well, Malcolm to over 1,000 people and me to under 1,000 people.
I give this example to show how easily speakers, and people generally, can distort reality. The best approach: simply tell the truth. This becomes particularly relevant in terms of how speakers describe themselves and their accomplishments to build their credibility. Always remember that you should be introduced as the person you are, not the one you wish you were.
Generally speaking, the more you have done, the less you need to say. Most professional speakers like to keep their introductions brief, and in fact, if the introduction is already in the conference material, they don't need it read out at all. They know they will be judged on their presentation. Nevertheless, for most speakers, a brief introduction is needed to establish some credibility and to answer the question, "Why are these people going to listen to me?"
If you embellish your resume and people catch on to it, you will lose credibility. Of course, if you go into politics you will have professional and motivated fact-checkers to contend with, as well. Speakers and others commonly misrepresent their background. For example, "Mr. X is a graduate of Smallville Junior State College, and is a graduate of the Harvard Business School." We as the audience are meant to be impressed that while, through no choice and plain circumstances, this individual was bound to go to the local college because it was within walking distance, he managed to hit the big leagues and graduated from the Harvard Business School. That would be an impressive feat. But did it happen that way?
Well, no, not quite. Harvard has made monetizing its brand into an art form. Harvard has an Owner/President Management (OPM) Program offered for a series of three-week stints over three years, weighing in at a hefty US$120,000 price tag. This is an open enrollment program. You need to meet some basic criteria, such as a business track record, but essentially a check and a pulse are the two most important qualifications. By paying the money and completing the program, you can become part of the distinguished global network of Harvard Business School alumni. Are you, however, a graduate of the Harvard Business School? That's a stretch. It would be better to introduce yourself as having completed a continuing education/open enrollment program at Harvard.
Tyra Banks, the businesswoman and supermodel, is a high-profile example of this situation. In 2012, Banks was exposed as having embellished her supposed Harvard credentials. Banks previously completed the aforementioned OPM program. Participants in the program are called "clients," not "students," as they do not have to take a GMAT to enroll. It's not part of the university's top-ranked MBA program, and the alumni of the OPM program are not granted a degree. As the website Jezebel.com pointed out at the time, attending the OPM program and calling it "going to Harvard Business School" is a little like enrolling in a pottery night class and saying you are "going to art school."
In short, maintain the integrity of your bio. Remember that many people can read between the lines and see through your embellishments. You don't want to lose your credibility before you open your mouth.
---