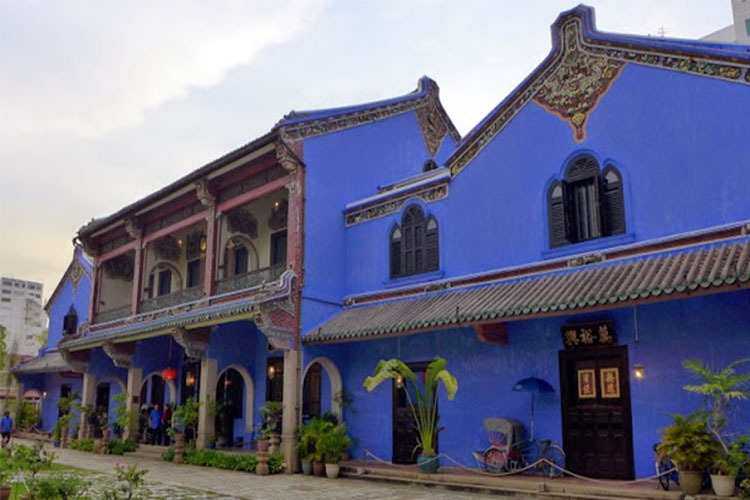 Cheong Fatt Tze's The Blue Mansion
ISLAND OF PENANG, MALAYSIA – JULY 5, 2019 – The Island of Penang, off the west coast of Malaysia, is a popular destination, a couple of hundred of years ago for British colonialists and today for tourists. Penang combines a hot climate, beaches, historical attractions and a favourable currency. The main town on the Island with a present population of 700,000 is George Town, whose historical core is a UNESCO World Heritage Site. While Penang is known for its tourist environment, embedded in the history and present of Penang is an entrepreneurial spirit.
THE BLUE MANSION ENTREPRENEUR – The life story of Cheong Fatt Tze (1840 – 1916) appears to be that of a quintessential entrepreneur. He has gained more attention recently through one of his former homes, "The Blue Mansion" in Penang. His previous abode has been regularly used as a filming location and was one of the sites featured in the recent movie, "Crazy, Rich Asians."
The Blue Mansion was one of the most favoured homes of Cheong Fatt Tze; he had multiple homes in various parts of Asia, where his entrepreneurial activities most frequently took him. The Blue Mansion complex includes 38 rooms, 5 courtyards, 7 staircases and 220 windows. The principles of "feng shui" (i.e. geomancy) dictated many features of the design of the mansion.
The mansion has a distinctive blue colour due to the use of Indigo, a plant local to the region which produces a deep and rich color of blue. In addition, Indigo blue is a traditional colour of "the Hakka." The Hakka are Han Chinese people whose ancestral homes are chiefly in the Hakka-speaking provincial areas of Guangdong, Fujian, Jiangxi, Guangxi, Sichuan, Hunan, Zhejiang, Hainan and Guizhou in China.
As with many entrepreneurs, Cheong Fatt Tze had humble origins. He started as a water-carrier and then became a shopkeeper in Jakarta, Indonesia. After his marriage, he established a trading company with the help of his father-in-law. Gradually, he began to accumulate wealth through hard work and perseverance. In 1877, he expanded his business from Jakarta to the northern part of the Island of Sumatra in Medan. His business was based on trade in agricultural products such as rubber, coffee and tea.
In the 1890s he also brought the concept of Western grape-based wine (rather than rice wine) to Asia—the winery still exists to this day. He also branched out to the financial sector by acquiring a bank, which made him a wealthy man. In 1886, he expanded again to Penang, Malaysia, which is not too far across the Straits from Medan. As his business grew, he owned three ships which plied the waters between Penang and Medan. In the course of his work, he occasionally resided in Penang.
At the end of his days in the 1910s, the water-carrier was widely regarded as one of the most significant personalities of his ear in the Far East. He was a Chinese Mandarin (i.e. appointed official) of the Highest Order, a Consul General of the Ching Government, Special Trade Commissioner for South-East Asia and a director of China's first modern bank and first railway.
GRAB & UBER – A more recent entrepreneurial tale is that of "Grab," prevalent in Penang and throughout southeast Asia. Grab is the equivalent of Uber in southeast Asia. Since its founding almost seven years ago Grab has morphed into Southeast Asia's most valuable tech start-ups with a valuation of over US$10 billion. Southeast Asia, with its population of about 660 million, has long been seen as the next big market for tech companies – the ride-hailing business alone is forecast to be worth more than US$20 billion by 2025.
Today, Grab operates in about 250 cities across eight countries and boasts over 100 million app downloads. What started out as a taxi-booking app to help keep both drivers and riders safe has evolved to include bookings for private cars, bicycles, shuttle buses and now delivery services for food, parcels and groceries. To tie all of its services together, it also launched mobile payments service GrabPay in 2016, making payments for services more convenient and incentivising users to make in-store purchases in exchange for reward points.
Anthony Tan, CEO and co-founder, said that his personal faith, as a Christian, guides his actions and also how the company operates. A principle such as servant leadership is a core influence at the company. "If Jesus can wash his disciples' feet, then who am I?" said Tan.
In March 2018 Grab announced that it acquired Uber's Southeast Asia operations. This deal was the largest-ever of its kind in Southeast Asia. Grab has integrated Uber's ridesharing and food delivery business in the region into it's existing multi-modal transportation and fintech platform. Grab is planning to continue to extend its leadership as the most cost-efficient Southeast Asian platform, having taken over Uber's operations and assets in Cambodia, Indonesia, Malaysia, Myanmar, the Philippines, Singapore, Thailand and Vietnam.
As part of the acquisition, Uber received a 27.5% stake in Grab and Uber's CEO joined Grab's board. Anthony Tan, Group CEO and Co-founder, Grab said, "We are humbled that a company born in southeast Asia has built one of the largest platforms that millions of consumers use daily and provides income opportunities to over 5 million people. Today's acquisition marks the beginning of a new era. The combined business is the leader in platform and cost efficiency in the region. Together with Uber, we are now in an even better position to fulfil our promise to out serve our customers. Their trust in us as a transport brand allows us to look towards the next step as a company: improving people's lives through food, payments and financial services."
Having used Grab in Singapore and Penang, I can confirm it's simple, efficient, cost-effective. It's better in every way than a taxi for all the same reasons that Uber works in North America (other than places such as Vancouver). The entrepreneurial spirit lives on in Penang and southeast Asia!