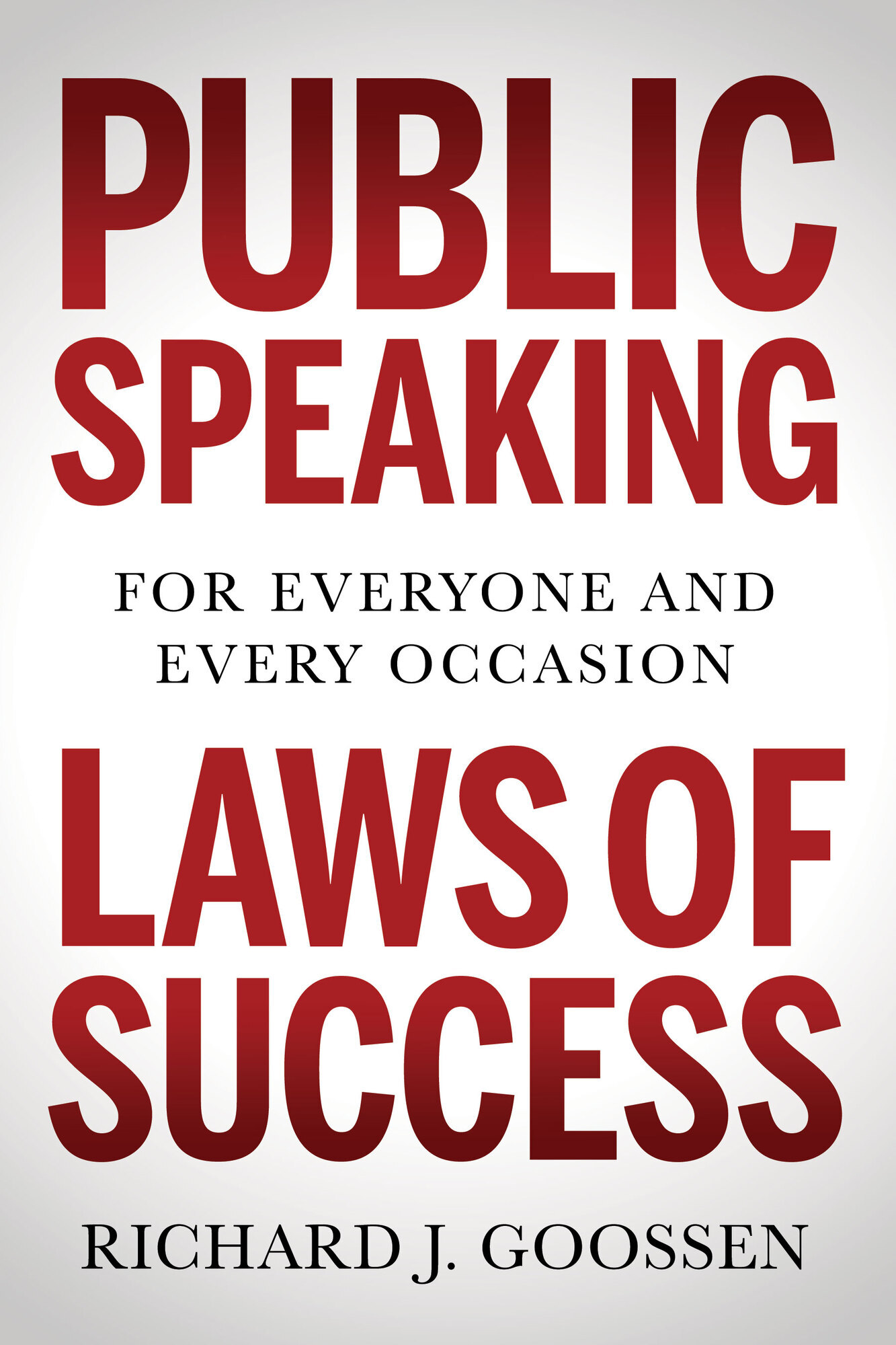 Public Speaking Laws of Success: For Everyone and Every Occasion (New York, NY: Morgan James) by Richard J. Goossen will be released on September 28, 2021! Prior to the public release and distribution at bookstores, copies are available in bulk directly through ELO. For further information on individual review copies or bulk sales contact: Admin@ELONetwork.org.
Leading up to the publication of the book, we will be posting a series of blogs related to public speaking laws of success discussed in the book.
---
Failure. Tragedy. Mental health challenges. These subjects are difficult to discuss—especially from the podium.
The most powerful presentations, though, are often those that bring out emotion. As one of my friends said after a conference, the speakers he likes best "are the ones that touch my heart." The emotion of the speaker is something that the listeners can relate to and connect it to their own experiences. These shared experiences create an emotional resonance.
However, there is a difference between the emotion transferred to the audience and the emotion kept on stage with the speaker. I have seen speakers become emotional on stage while the audience is simply unmoved—and it can be like watching a train wreck. People feel more awkward than empathetic, and it doesn't impact them. They haven't connected with the speaker's experience.
On the other hand, there are examples of speakers who are able to explain an emotional situation with which people can identify.
Phil Vischer was a speaker at one of our ELO Forums, as well as the creator of the groundbreaking children's series, VeggieTales. With the help of his wife, a college buddy, two art school grads and his church's music director, Phil landed VeggieTales videos in a third of all American households with young children.
And then, at the peak of Phil's success, everything turned upside down. Phil's company, Big Idea Productions, was forced into bankruptcy in 2003. He lost his company, his characters, his dream. What he didn't lose, though, was his faith and hope. Phil found himself with a ministry he never expected—a ministry to anyone who has lost a dream. Phil has detailed the dramatic rise and fall of his dream and the lessons learned in his well-reviewed book, Me, Myself & Bob: A True Story about Dreams, God and Talking Vegetables (Thomas Nelson, 2008).
Phil's telling of his story at our event was quite gripping. We have all failed. We have all made mistakes. We can all relate to Phil's story. We have all lost something that we have dearly cherished. Dealing with failure is part of being in business. Things don't always work out—many times it doesn't! The challenge is to have and maintain faith when a dream is shattered—and that the focus of Phil's talks.
So, how can you "touch the heart" of your audience? This will depend, of course, on the context of your presentation. Here are some general points.
Think of something you have experienced. Perhaps it relates to some of your core relationships. For example, I have heard people share a story along the following lines.
The boy was about twelve years old at the time. There was a general store in his community, not far from where he lived, and one day he biked past it and spotted a vase. His mother's birthday was coming up, and the boy wanted to do something special for her. He had a few dollars he had gathered together from cutting grass and doing other odd jobs, so he used that money to buy the vase and gave it to his mother on her birthday. She was thrilled, and put it on the mantle, and said it would always remind her of her son's love for her, no matter where he was in the world.
As the years went by, and mother and son both aged, the vase remained on the mantle. Eventually, the boy's mother finally passed away. As the son and his siblings sorted through his mother's few earthly belongings, the son came across that birthday gift and realized it was not that nice a vase. He took that vase, anyway, and brought it to his house. It now sits on his mantle, and it reminds him of the love that his mother had for him.
This simple story can be quite impactful. Everyone in the audience has parents. They have family. They want loving relationships. They appreciate those who have invested in them. Everyone reflects on what is important in life. The things we value don't always have a dollar value. That simple story is a reminder of those things. You can ask probing questions: "What have you done for someone important in your life? What can you do now?" Think of your own experiences. That will make your story come to life.
The above three stories include different experiences: running a race as a child; business failure as an adult; and the love between a child and a parent. Each of these stories can make an emotional connection with an audience. For any speaker, think of one of your own experiences that expresses a universal truth that will resonate with others.
---