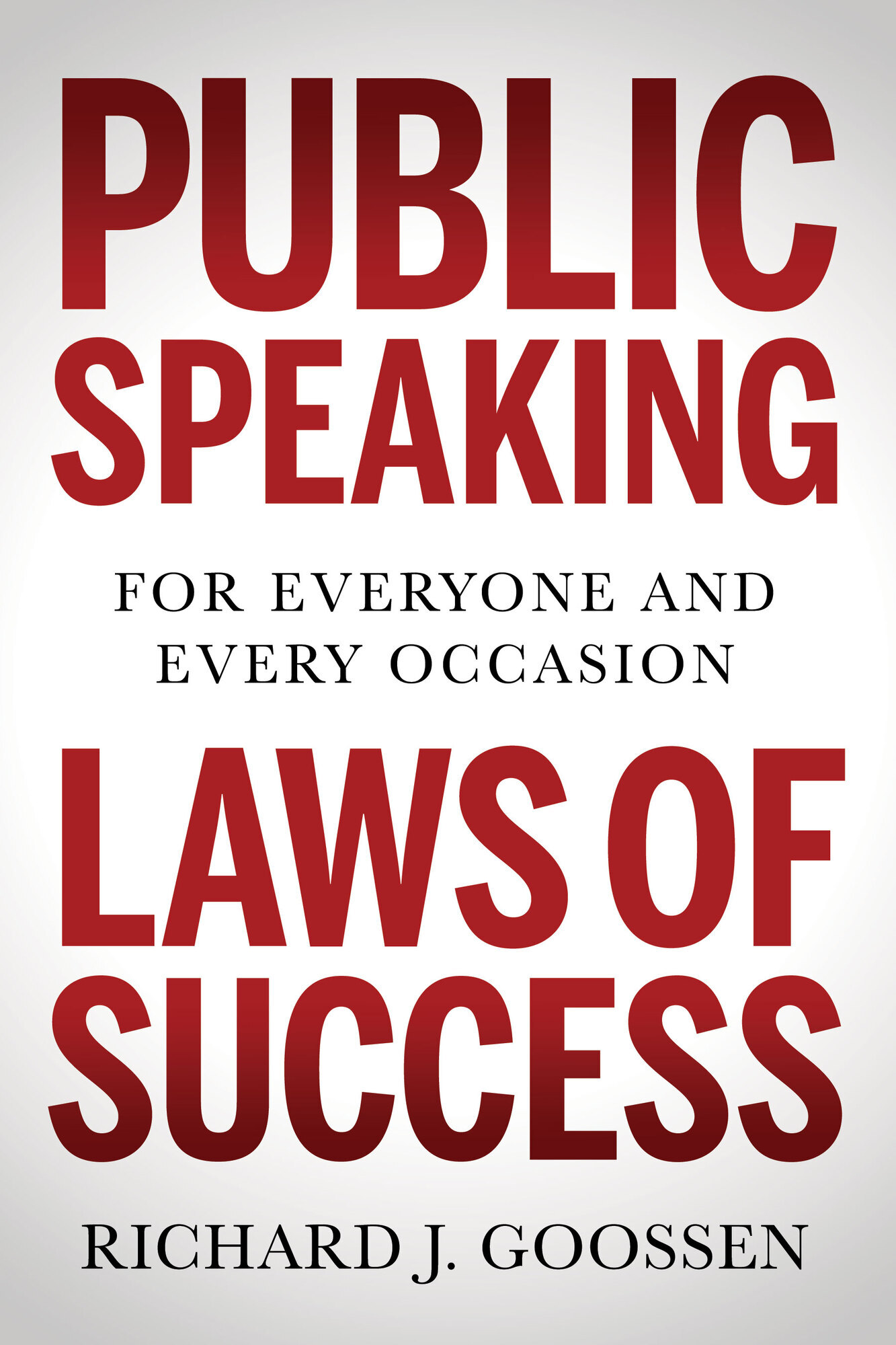 Public Speaking Laws of Success: For Everyone and Every Occasion (New York, NY: Morgan James) by Richard J. Goossen will be released on September 28, 2021! Prior to the public release and distribution at bookstores, copies are available in bulk directly through ELO. For further information on individual review copies or bulk sales contact: Admin@ELONetwork.org.
Leading up to the publication of the book, we will be posting a series of blogs related to public speaking laws of success discussed in the book.
---
How can you get a standing ovation after a presentation? I mean a real standing ovation. There are, after all, at least two types of standing ovations. You've likely seen far more of the former than the latter.
The first type is the "contrived" standing ovation. Within that category, there are a few different subtypes.
I have been at political gatherings where the audience is composed of those "drinking the Kool-Aid," so to speak, and then the rest of the crowd. The featured politician finishes up with final remarks, and then the sycophants spring to their feet like clapping seals, applauding so mightily it's like the roar of thunder. They are doing enough clapping for the rest of the crowd, and more importantly, for a photo from the right angle that can play on the newsreel to show a tumultuous standing ovation.
The other type of "contrived" standing ovation is when you are at an event and a certain person is being honoured. The person does their presentation and that person's supporters fill a handful of tables at the front of the room, making up perhaps less than 10% of all attendees. Their friend exits the stage, and they spring up on cue, clapping raucously—and not sitting down. They are making enough noise that the event can't really continue. There is then the tipping point where the rest of the crowd realizes that the event will not wrap up until this now-awkward moment passes, and they gradually stand up, due to some combination of expediency and sympathy, to help end the charade. It's also a good time for a stretch.
These two types of contrived standing ovations are not the ones I am talking about—although, on some level, they are better than nothing.
What makes a true standing ovation?
I have organized many events, with many speakers and attended many events, and I have experienced very few true standing ovations. However, I have experienced a handful of genuine ones, and they had some consistent features. First, the speaker gave transparent, moving and emotional remarks that resonated with the audience. Second, the speaker had great character traits, coming across as humble, often self-deprecating, and focused on the audience. Third, the substance of the speaker's remarks rang true with the audience. Lastly, the speaker's message was uplifting and inspiring. A standing ovation, in this case, is a form of saying "thank you."
One speaker who got a standing ovation at one of our ELO Forums was William (Bill) Pollard. At that time Bill was the Chair of Fairwyn Investment Company, a private investment firm. He was well-known in corporate circles, however, for another role. For a 25-year period, from 1977 to 2002, Bill participated in the leadership of The ServiceMaster Company and served not once but twice as its Chief Executive Officer. He also served as Chair of the Board of ServiceMaster from 1990 to April 2002 and was elected Chair Emeritus in 2002 when he retired from the Board. During his leadership of ServiceMaster, the company was recognized by Fortune magazine as the #1 service company among the Fortune 500, and was included as one of its most admired companies. During this period, ServiceMaster also was identified as a "star of the future" by The Wall Street Journal and recognized by the Financial Times as one of the most respected companies in the world.
When Bill was invited to speak at one of our ELO Forums, it soon became clear that he lived his values and that his integrity came from deep within his soul. He delivered a great presentation and he responded during the Q&A in an authentic and thoughtful manner. At the time of this presentation, Bill was around 80, with a full head of gray hair, a grandfatherly demeanour, and the look of a wise sage. The whole time people were thinking, "Here is a fellow with endless accolades, and yet he is talking to us like a friend." When he finished speaking, I was in the process of getting out of my chair to make my way to the podium and thank him. Then, out of the corner of my eye, I saw the rest of the crowd springing up to give him a well-deserved standing ovation. Why? He had great content, outstanding character and a message of encouragement to other leaders, delivered by an elder statesman to young leaders.
If you ever get a true standing ovation, know that you will have hit a grand slam in extra innings to win the game.
---