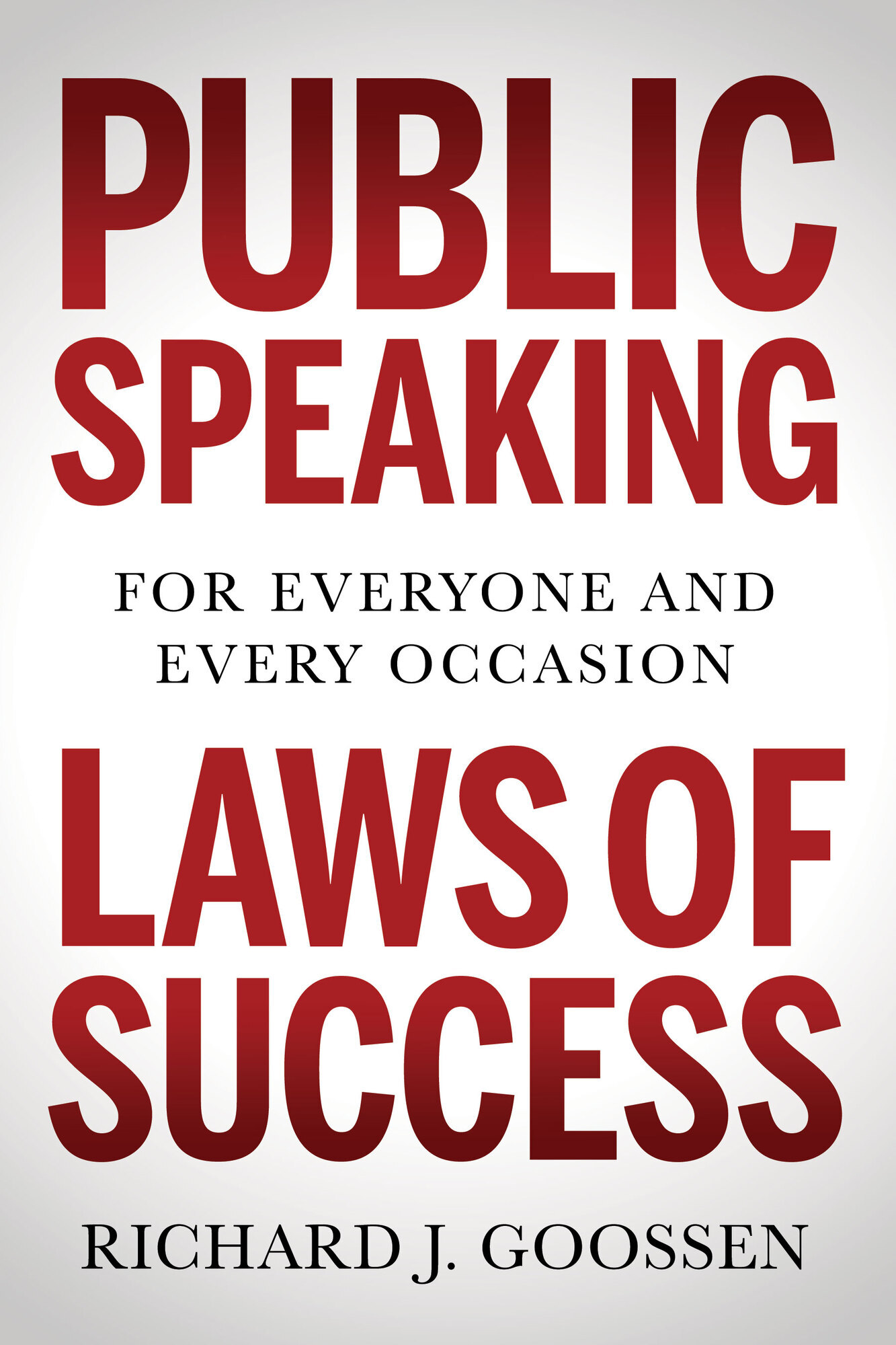 Public Speaking Laws of Success: For Everyone and Every Occasion (New York, NY: Morgan James) by Richard J. Goossen will be released on September 28, 2021! Prior to the public release and distribution at bookstores, copies are available in bulk directly through ELO. For further information on individual review copies or bulk sales contact: Admin@ELONetwork.org.
Leading up to the publication of the book, we will be posting a series of blogs related to public speaking laws of success discussed in the book.
---
"Hi, my name is John, and I want to be your friend." How many people could pull that opening line off with charm and sincerity? Very, very few. But, then, John C. Maxwell is unique.
John is one of the world's leading authors and speakers on leadership. He has written 30 books, primarily on leadership, which have sold about 25 million copies. One of his most recent books called Everyone Communicates, Few Connect, is about the fact that talking and connecting are not the same.
How do you connect with an audience? There are many elements to consider. It has to begin deep within your soul. You need to be a person who cares for and is interested in people. That way, when you are speaking, you are not speaking to them or at them, but speaking with them.
John Maxwell speaks so regularly all over the world that he likely can't remember where he spoke just last month. Over the years I have heard him speak in different settings. Regardless of the context, he exudes a sense of warmth and acceptance. Despite his hectic schedule, he never seems to be in a hurry.
On a couple of occasions, I have been part of small gatherings John has attended. He will show up without any fanfare. He'll enter at the back of the room and just start talking to whoever is closest when he enters. He'll be in the room for up to half an hour before anyone else knows he's there. When he is talking to someone, he absolutely "locks in." He leans forward, and he listens intently. His demeanour and persona are just as evident from the front of the room. He ambles up to the stage and makes himself comfortable. He typically uses a cocktail table and high-top chair. He looks comfortable and makes everyone else feel that way, too.
He goes at an even pace. He uses silence exceptionally well. He looks at the audience and smiles a lot. Having interacted with him on a few occasions, I have seen that he is the real deal—what you see on the platform is what you get on the floor. He lives what he writes. He is a person who tries to connect with people in whatever time he has with them.
This public speaking law is to do what you can at the outset to connect with the audience. Adapt your pacing to let your words sink in. Be expressive, and remember the bigger the room, the more expressive you need to be.
You don't have to say anything fancy or complicated to connect with people. You can say something like, "Hi, I'm Rob. I'm here to speak about sales. In the next hour, my objective is to share my experiences to help you be more effective in your activities and double your income." You just have to say it like you mean it, and believe it. It's amazing how well someone can connect with an audience within a short amount of time.
One interesting side note is that having worked with many of the world's top public speakers, I often get asked, "What are they really like?" In other words, is there a public image that doesn't match what is projected on stage? John Maxwell is the same on stage as he is in person: warm and engaging. To some extent, your ability to connect with people as a public speaker will match your ability to connect with people on an individual basis. If you aren't genuinely interested in people, it's hard to flip a switch and suddenly pretend to be.
It can be a challenge to connect with an audience. A room full of people can sometimes seem lifeless. A crowd that has assembled to hear a speaker may have been waiting for a while, leaving people bored, fidgety, and impatient with the delay. Yours might be the session right before the coffee break, or the last session of a conference. The previous speaker may have put the audience to sleep. People may simply not be interested in your topic. What should you do in these situations?
People will be more interested in listening if you are engaging. Start looking for an audience response through the various techniques as outlined below. By being an engaging speaker, you can transform the mood of a room.
---