Shant Mardirosian: Beyond The Burger's Priest: My Entrepreneurial & Life Journey (Q & A)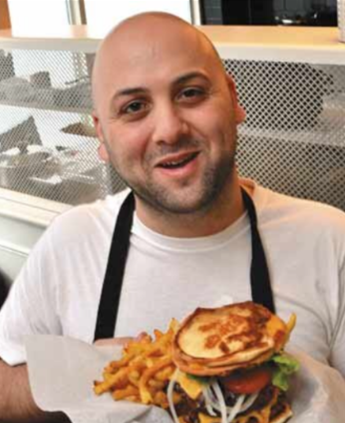 About the presenter:
Shant Mardirosian was born in Los Angeles and raised in Toronto. He received a Bachelor of Religious Studies from Tyndale University College. Israel was called a "kingdom of priests" and that became an inspiration for the name of his restaurants. He built up The Burger's Priest chain to 14 locations and then sold to Cara Foods. He is now working on his next big idea. His recipe for entrepreneurial success: authenticity, hard work, self-awareness.
This excerpt was taken from the Edmonton Journal, March 11, 2015 ed.:
"Burger's Priest Cites Divine Intervention, But Doesn't Preach." "In the beginning, Shant Mardirosian the founder of the Burger's Priest wanted to be a pastor. Burgers weren't part of the plan. Mardirosian didn't grow up religious but became a Christian when he was 19. He studied at Tyndale University College, an evangelical school in Toronto, earnestly praying and struggling to discover his life's purpose. Eventually, he dropped his dreams of ministry and came to terms with his entrepreneurial instinct. As a California native, Shant grew up with old fashioned burgers and worked in restaurants and after eating a PJ Clarks burger in New York City he decided Canada needed a burger revival. It took some time to scrape together enough money for his first location, a tiny hole on Toronto's Queen Street opened in June 2010. The timing was auspicious, as a burgeoning foodie scene quickly dispersed his gospel via social media. Eager devotees would walk an extra mile for a no-nonsense meal, then line up down the block to order juicy offerings off a repurposed hymn board. God had something to do with it as well, he says. To the uninitiated, "priest" might seem like a mockery of high church ceremony. But the restaurant name is actually Protestant in inspiration, based on the idea that anyone, anywhere can bring the sacred into the mundane. He's OK when people don't even notice he's not just being playful. "It's a part of me, a part of who I am, so it's a natural extension of my personality," he says. "I have so many customers who have come in for years, and have said, 'I thought this was a joke until I went and looked at your website.'" In-N- Out Burger is an inspiration for The Burger's Priest. Like the Southern U.S. chain, the Priest emphasizes simplicity, purity and tries to pay higher wages. There are subtle differences, too. The Burger's Priest slaps full bible narratives on the wall in ancient languages. They're not preachy passages, either. Faith might be integral to the Founder's identity and brand, but there maintains a separation of church and plate as The Burger's Priest knows business was built on shaping beef, not believers."