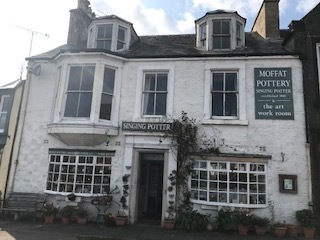 MOFFAT, SCOTLAND – AUGUST 20, 2019 – Have you ever been on a trip and come across someone or something unexpected and unique? A joy of being on the road is meeting unique people and having one-time encounters. This is the tale of the call of a man known as "The Singing Potter" of Moffat, Scotland.
Moffat, a wee town of about 2,500 people, is 51 mi (82 km) to the south of Edinburgh, Scotland, lying on the River Annan. It has a quaint city centre with seemingly too many hotels and pubs for a town its size. Every hamlet in Scotland will lay claim to a connection with Robert Burns, their national poet. Moffat is no different. The Black Bull Inn, dating back to 1568, touts itself as a site where Robert Burns scrawled some memorable lines on a windowpane.
I was wandering the streets of Moffat and came across an odd-looking establishment called, "Moffat Pottery – Singing Potter – established 1969" (see above photo). I was peering in the window, trying to discern whether to enter, when up the street bounded a man I soon found out was the "Singing Potter" himself.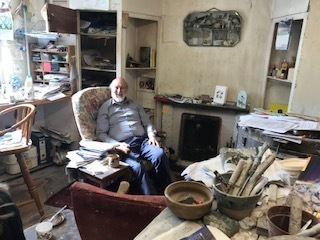 Gerry Lyons, born in 1938, is the resident potter. He is still sprightly and full of enthusiasm, into his 80s. He soon invited me to his backroom for a chat. His backroom (in the photo) looks like something out of a movie set of a madcap potter.
He asked me to take a seat, then plunked down in his chair, and soon embarked on sharing his testimony—in effect, his calling in life. He interlaced his story with end-time prophecy, revelations, interspersing political commentary, Brexit forebodings, borderline conspiracy theories and doomsday prediction. Yet, cutting through his extremities and eccentricities there was a clear commitment to making a difference in people's lives and to challenging visitors on their sources of fulfillment and meaning.
On one level he's more into preaching than he is into listening and thus his effectiveness might be limited. At the same, it's admirable and thought-provoking to see someone committed entirely to their faith where all their actions revolved around their core convictions.
Gerry had been in pursuit of happiness and success his entire life. He studied for the Catholic priesthood in Oxford and Rome, only to leave one week before making a lifetime commitment as a priest. Back in Scotland, he enrolled in the Glasgow School of Art, from which he graduated in 1965. He later studied at the Royal Scottish Academy of Music and sang in the Scottish Opera.
By all appearances, he was successful at that time of his life—but there was a pang of meaningless. Through a series of events in the US and back in Scotland he discovered that a faith in Christ could address his lack of a meaningful life. He also personally experienced the power of prayer and healing. His life was transformed and his direction altered forever.
This is why since 1969 he has focused on his shop. What does he do in his clay emporium? Gerry explains that, "There I am able to tell them [visitors] about the most famous 'potter' of all, who taught me all I know. The Lord has used me to reach thousands of people and them to Him, the Divine Healer. I have at last found peace and joy—the happiness that I longed for since childhood."
Gerry lives above his pottery shop. He maintains his happy and focused demeanour, despite having faced his many challenges, his first wife and one of his daughters predeceasing him. Gerry is living his calling. The streets of Moffat are being blessed by the Singing Potter.
Gerry clearly made the decision to devote his life to what he valued most. How many people do that? He is comfortable in his own skin. He is clearly pursuing his passion. He is content with his avenue for difference-making. His pottery shop is simply an opportunity to meet people and to share his life with them.
As I left, I purchased a unique coffee mug – a tangible memory of my encounter with The Singing Potter of Moffat, Scotland. The purchase was irrelevant to him. He was far less interested in selling pottery than he was in sharing his story.
---