As part of the Entrepreneurial Leaders Programme (ELP) at Oxford, myself and our cohort did a site visit to a Christian couple living out their call to the marketplace in Stow on the Wold, Gloucestershire. Alan and Jackie Slough operate an establishment called The Old Bakery Tearoom based in Cotswold that both serves lunch, snacks and cakes all homemade on the premises and provides a glimpse into their faith journey.
The uniqueness of The Old Bakery Tearoom is that Alan and Jackie are very transparent about their Christian faith, which is even more noticeable in the UK where evangelical Christians are not plentiful. They have pamphlets on each table that introduce them and what they call "A Christian story." They include links to both Alpha and their home church.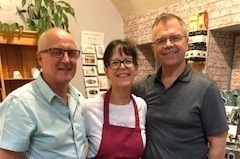 Our ELP group arrived towards the close of business and occupied most of the restaurant. We all had a supersized scone, with strawberry jam and clotted cream, along with tea or coffee. The scone was among the best I've had. Alan and Jackie were good enough to share their spiritual journey with us, which is also recounted on their website.
"In October 1999, Alan and I were invited onto an Alpha course, to find out more about Christianity and Jesus. We were then able to make an informed decision to ask Jesus into our hearts and lives and to start a living relationship with Him, and through Jesus, come to understand that God is our heavenly Father who loves each and every one of us unconditionally."
"In 2000, both our sons, James first and then Tom, made their own commitments to following Jesus, as they saw how our personalities were changing and that we were becoming 'nicer people'. We were all baptized in that year - again our own decisions and in obedience to Jesus who said 'go and make disciples of all the nations, baptizing them in the name of the Father and the Son and the Holy Spirit. And be sure of this; I am with you always, even to the end of the age.' (Matthew 28, 19-20)"
"For the next four years our lives were uneventful, the boys did well at school and we lived a normal if not busy life. We each grew in our faith in different ways and we were all involved with different aspects of church membership. Life was good."
"On Friday 30th January 2004 life stopped being so good. Tom took his own life, aged 16, by hanging himself in his bedroom. I found him, Alan tried to save him, but it was too late. No one had any idea of how he felt, but we are blessed that he was able to tell us through different things that he wrote - he was a very gifted and articulate writer - why he did what he did. It does not make it right, but it helps us to understand."
"Through our grief, we have come to a closer understanding of Gods' amazing love and grace. We have been carried by the love and prayers of many people and the support of our church - Chipping Campden Baptist Church - and over six years on we still miss Tom terribly, but you learn to carry on and take the bad days with the good."
"We believe that this Tea Room is where God wants us to be and how He wants us to serve Him - I never wanted anything like this before I became a Christian, but God put it firmly on my heart. It has taken many years, the death of our youngest son and a lot of soul searching and seeking for us both to realize that this is God's plan for us."
"If you don't already have a personal relationship with Jesus why not take some time to find out more, maybe through Alpha courses which are run all over the country. We welcome the opportunity to talk about our experiences on our journey so far, either to individuals or to groups of people by arrangement."
Jackie has written two books: Losing Tom – Finding Grace (2011) and Even Though I Walk…Coping With Bereavement (2014). Losing Tom is a five-year journey through the ups and downs of grief. It is a story of God's grace in the midst of grief.
Alan and Jackie are gracious in person and reflect a genuine faith and are called to make a difference in the lives of others. Their business is a means of generating a livelihood but also an opportunity to meet many others on a daily basis.
The reviews on Trip Advisor are overwhelmingly positive and highlight the warm welcome of Alan and Jackie and the great food and atmosphere. One review even described their location as a "Christian tearoom." They appear to have a balance of the pursuit of excellence and making a difference in the marketplace—one scone at a time. They are living out their unique calling.
The ELP cohort had a unique and special time with Alan and Jackie, including an opportunity to pray with and for them, and to witness the pursuit of their calling in person. A number of our cohort mentioned that this tearoom visit was a highlight of their ten-day experience in Oxford and the surrounding area. Next time you are in Stow in the Wold, I'd recommend that you stop by their tearoom!
Learn more about the Entrepreneurial Leaders Programme>>
[NOTE: This is blog post #22 related to the concept of calling. For the complete list send an email to Admin@ELONetwork.org].
---

This blog was originally posted on August 27th, 2018