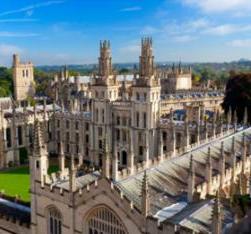 VANCOUVER, CANADA & OXFORD, UK – The Entrepreneurial Leaders
Institute, Vancouver, Canada and Wycliffe Hall, Oxford are pleased to announce the launch of a
unique, one-week intensive "Entrepreneurial Leaders Programme" ("ELP") for the world's top
Christian marketplace and entrepreneurial leaders (see www.ELIOxford.com).
The ELP will provide a transformational experience to equip successful Christian marketplace and
entrepreneurial leaders to leverage their resources for greater difference-making in their spheres of
influence such as business, church, non-profits and society.
The ELP is targeted towards owners or partners in for-profit businesses with a minimum of ten-year
track record of success. It will be a dynamic and interactive environment, with learning from world-
class instructors and from a global and diverse cohort of peers.
Dr. Richard J. Goossen, Director, Entrepreneurial Leaders Institute will be the programme
coordinator, integrating guest presenters from Oxford (including Wycliffe Hall) and around the world.
The ELP is based on decades of experience, extensive research and many years of practical
application.
The Entrepreneurial Leaders Institute will work in collaboration with Wycliffe Hall. The
Entrepreneurial Leaders Institute is part of Entrepreneurial Leaders Organization (ELO), which has a
track record of excellence in executive education events. Since 2005 ELO has held over 40
successful events in cities including Vancouver, Toronto, Hong Kong and Shanghai. ELO has
attracted the world's top Christian entrepreneurs and thought leaders.
Wycliffe Hall is a Permanent Private Hall of the University of Oxford. Oxford's system is unique with
38 colleges and six Permanent Private Halls. The Permanent Private Halls can retain their Christian
character and so Wycliffe Hall has a unique calling to be advocates of the historical Christian faith
and to equip the Christian leaders of the future. Wycliffe Hall has a track record of engaging in
successful collaborations with other organizations. For example, Wycliffe Hall has a long-standing
partnership with the US Council for Christian Colleges & Universities (CCCU) bringing North
American students to engage in study at Oxford.
In addition to world class instruction, the ambiance of Oxford will be inspiring for ELP participants.
The 850-year old university city with its fabled spires and medieval colleges, along with various other
attractions, is unmatched in the world.
The first cohort is planned for August 2018. Registration is now open.
FOR FURTHER INFORMATION:
Dr. Richard J. Goossen, Director, Entrepreneurial Leaders Institute,