Sen. David Braley- March 30, 2012
Senator David Braley shared very candidly about his upbringing, educational challenges at university, business experiences, involvement in politics and charitable priorities. Senator Braley is likely best known as the owner of the BC Lions and the Toronto Argonauts and as a Hamilton-area philanthropist. However, I think everyone who attended came away with a better understanding of a man who is undoubtedly one of Canada's leading entrepreneurs and philanthropists.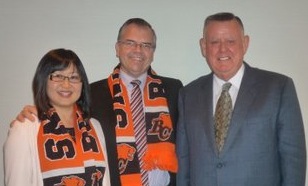 Some interesting glimpses:
· His father abandoned his home when he was 6 and he was raised by his maternal grandfather, who had a very significant role in shaping his approach to life and business.
· He dropped out of McMaster University in Hamilton—he was off the charts with maths and sciences, but struggled with English; he couldn't pass his English class after several attempts and then dropped out
· He never earned an undergraduate degree, but later received a Honorary Doctorate from McMaster
· He emphasized that an entrepreneur is one who takes "measured risk"
· Despite his entrepreneurial successes, he regrets not having taken bigger risks in business (i.e. possibly paying a premium for some strategic acquisitions that would have paid off very well)
· He has given away approximately $125 million...thus far
· He believes in giving back to the community in which his money was made, so his focus is on the Hamilton area
· His goal is to provide both financial support and strategic input to have McMaster University's medical school be in the top 5 in the world
· He bought the BC Lions because if the franchise would have folded the survival of the CFL would have been in jeopardy (25% of the English TV audience is in BC and without a team then the league would not have national TV coverage and would lose financial viability)
· The Lions are a profitable franchise and getting stronger
· He's a salesman! Senator Braley brought his Manager of Customer Services, gave BC Lions scarves to everyone (see attached picture with scarf models) and encouraged everyone to "feed the cat" (i.e. buy seasons tickets!)
There was much, much more, but it's "off the record".....