Pres. Stephen Toope- Feb. 8, 2013
"What does leading in a time of dramatic change mean?" Stephen Toope, President, UBC, addressed this topic and others related to entrepreneurship, innovation and leadership as the featured presenter at the ELO Roundtable, held at The Vancouver Club on Friday, February 8th from 12 – 2 p.m.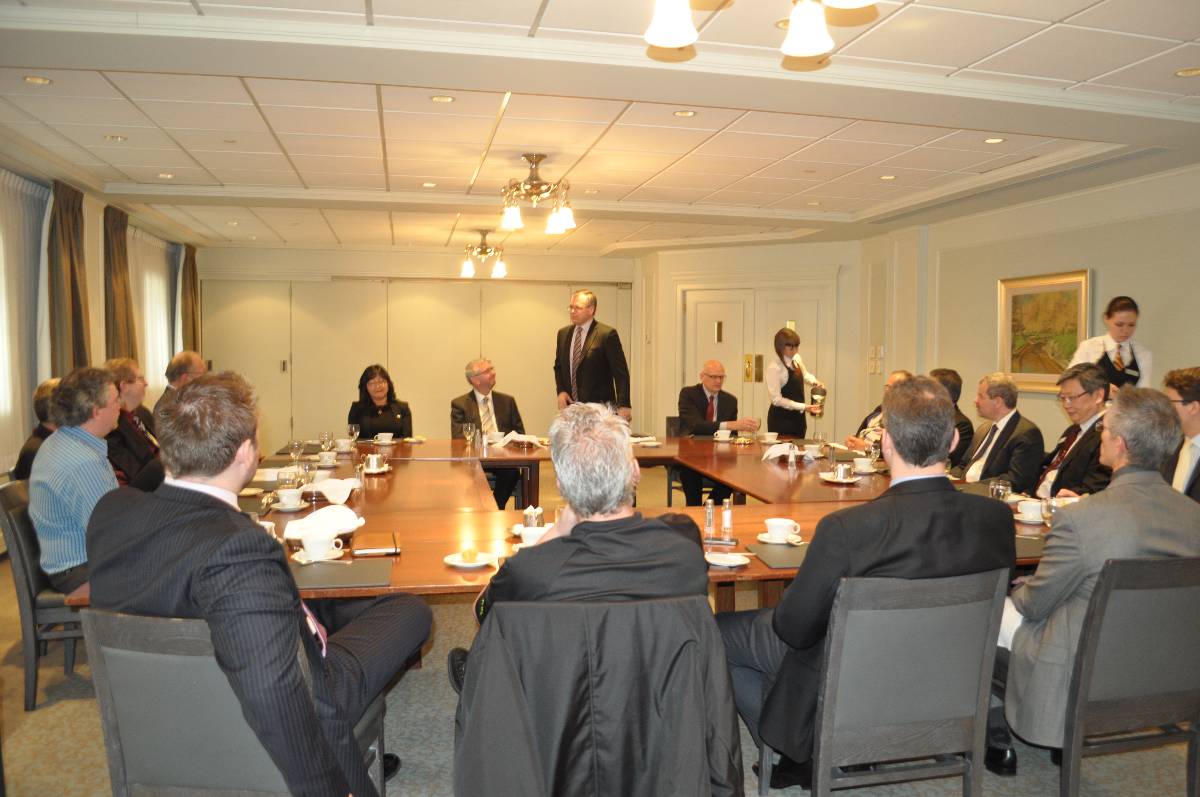 Stephen noted that leading in a time of dramatic change is something that not only an educational institution needs to grapple with, but all entrepreneurs who by definition are those who anticipate and embrace change. Stephen highlighted three points. The first aspect of leading in this type of fluid environment is to develop and maintain clarity of purpose. Organizations, especially large ones like UBC, do many things—and do them very well. But the key is to distill everything down to its essence—and then be able to convey that to stakeholders. Second, leading in a time of change requires building the right team. Stephen wanted change agents on his team when he assumed the helm at UBC. By putting his team in place, he was freed up to focus on the bigger picture. The third aspect of leading in a time of change is to identify and live by core values that reflect the essence of the institution. UBC has a statement of values and that shapes institutional discussions and practical items such as hiring policies.

From a personal standpoint, Stephen spoke of his own source of values. He spoke with great admiration for his parents who provided an anchor of values that remain an ongoing source of guidance. He father was an Anglican minister and his mother was an active supporter in their church. Some of the core values he cited were the importance of trustworthiness and respect for others.

Stephen addressed several other key topics throughout the roundtable discussion. He talked about how UBC is striving to instil an entrepreneurial culture at its institution and thus influence the broader society. He noted that studies show that while there are entrepreneurial successes in Canada, there is not same broadly-based embrace of the entrepreneurial life as in other countries, such as the US. One shortcoming in Canada is the lack of commercialization of ideas.

UBC is trying to help students appreciate that an entrepreneurial life is an exciting career path and that it can be an avenue for driving positive change. UBC is also working at getting the entrepreneurial message out to the student body by taking a cross-functional approach; the spreading of the entrepreneurial spirit is not confined solely to the business school.

Some questions related to fundraising. UBC has successfully passed the $1 billion mark in their current fundraising campaign. Their slogan is "start an evolution"—it's about change. Not an easy feat at any time. What are some lessons? He harkened back to the clarity of purpose. He noted that differentiation is important. He also stressed the important of leadership in the development department, including the technical competencies of the metrics of organizing data of alumni.

The response from attendees to this roundtable was very positive in terms of the content and the opportunity to connect with other entrepreneurial leaders.