Post Event Report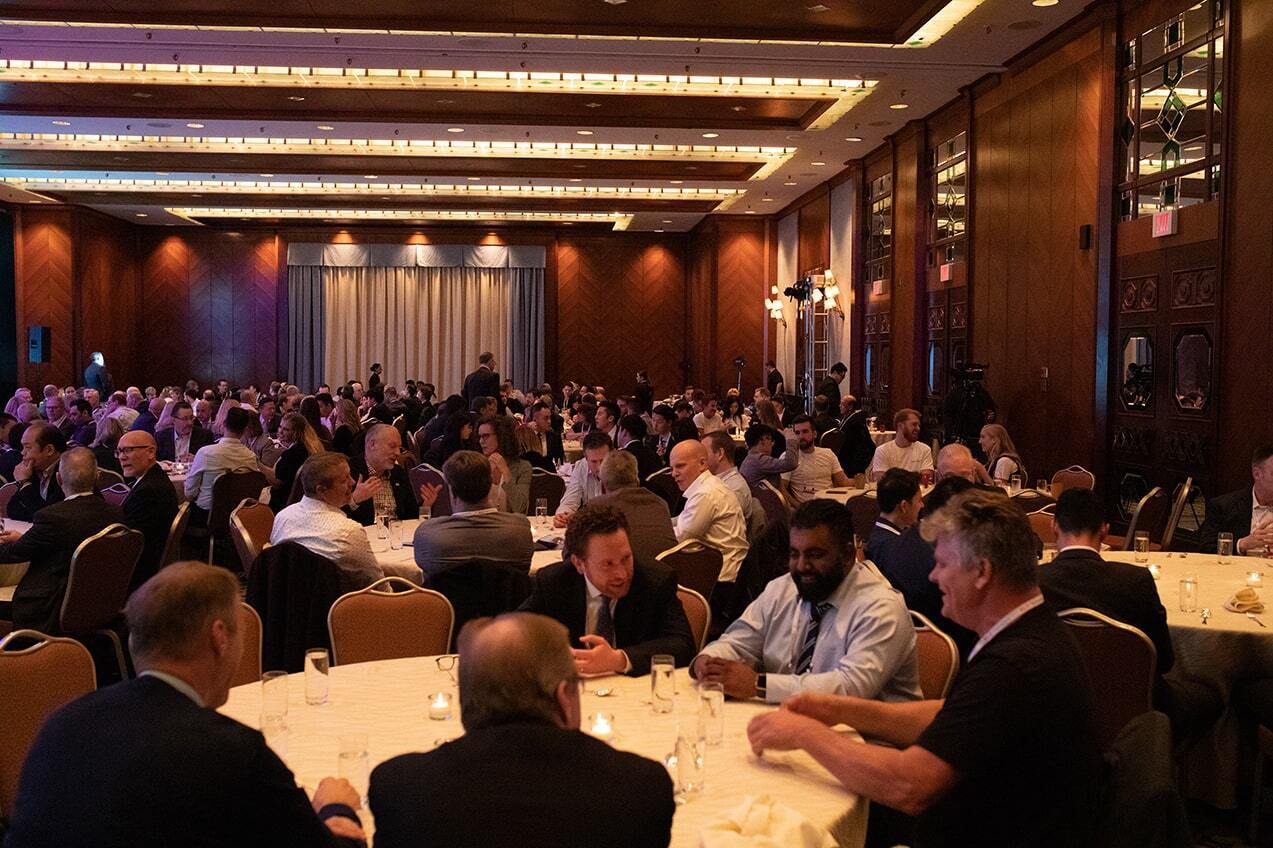 ELO Forum Vancouver: Inspiring, Motivational & Impactful!
The ELO Forum in Vancouver on November 14th, 2019 was an outstanding success. A packed house heard an amazing line up of speakers from throughout Canada, the US, and Europe. Attendees raved about the "inspiring and motivational speakers," punctuated by a riveting and motivating evening keynote. Attendees were highly impressed by the consistent quality of speakers, the pace, the Q&A format and the well-organized and executed program. One attendee marveled at the "many great nuggets all day long."
The ELO Forums are widely recognized as the premier gatherings each year for Christian marketplace leaders and are often referred to in shorthand as a Christian version of TED Talks with our consistently excellent presentations. The purpose of the ELO Forums is to connect, equip, and celebrate Christian marketplace and entrepreneurial leaders.
With respect to connecting with others, the Forums attract a high percentage of company founders, owners, entrepreneurs, and leaders. There are four designated networking time slots throughout the day. Attendees commented on the "inspirational networking." The benefits of being at the event: "Meeting new people;" "Inspiring people and connections;" and "Connecting with people who have real-world experience."
With respect to the purpose of the Forums to equip leaders, the six speakers in the afternoon did a masterful job of providing great information and insights. Justyn Terry, Academic Dean at Wycliffe Hall, University of Oxford, highlighted the role of trust as an essential biblical quality for leaders. Paul Sohn, Biola University, addressed the topic of quarter-life calling for millennials. John Neate, Founder, JJ Bean Coffee Roasters, talked about integrating faith in his growing business. Ray Pennings, Co-founder, Cardus, spoke on private business and public faith. Henry Kaestner, Managing Principal, Sovereign's Capital, spoke about faith and work lessons learned during his Silicon Valley career. Lastly, Jeremy Showalter talked about lessons learned at Microsoft and innovative ways to make an impact through a corporate context.
The event is a "forum," which means that all our speakers are live and in-person, there is interaction with and among attendees during presentations and throughout the day.  Here are the top ten things that attendees told us that they learned:
"Great reinforcement of the impact we can have in the marketplace."
"The need to partner with God to be more effecting in my work life."
"Leveraging my position and raising up other leaders to make an impact."
"Being able to hear the stories of living out faith and being reaffirmed that faith and business are a calling."
"Marketplace leaders need to be bold in using their platform for Christ and protecting Christian rights and freedoms and bringing people to the Lord."
"Christians need to speak up and be noticed. Take risks for Christ to use you."
"The 'why.' Finding the 'why' to live your purpose. Invitation to walk with God in everything."
"God needs to work in me first. We are involved in the process. God is involved with the outcome."
"God working in you first before He uses you."
"God does not call the qualified but qualifies the called."
Richard Blackaby, the evening keynote, spoke on "The Disciplines of Spiritual Leadership:  Knowing and Doing the Will of God in the Marketplace." The presentation was captivating and motivating.  One attendee was impacted by Blackaby's statement: "When God wanted to change the world, he used businesspeople." Another attendee said that "the closing speech by Richard Blackaby was inspiring."
The third purpose of the ELO Forum is to celebrate Christian marketplace and entrepreneurial leaders. As part of the evening session, ELO presented the Entrepreneurial Leaders Award to David & Cheryl Koop, founders and lead pastors of Coastal Church in Downtown Vancouver. The church was like a start-up/bootstrapping project that, through a series of God-ordained circumstances and events, now owns its own heritage property in downtown Vancouver and has been having an impact in their community and beyond for 25 years. One attendee commented: "The fact that ELO honoured two pastors as by doing so (as Dave Koop mentioned) honoured all. And, that God is at work all around us!"
The bottom line is that the 14th annual Forum again attracted Christian marketplace leaders who are inspired and better equipped to make a positive difference in their spheres of influence. The need has never been greater.