Graham Power- "Unashamedly Ethical: An Entrepreneurial Quest to Change a Culture of Corruption"
Description:
Graham Power will share his one-of-a-kind story of making an impact through business success and community involvement, both locally and internationally. He will provide lessons from his experience running the "Power Group" (www.powergrp.co.za) which is one of Africa's leading construction firms, and talk about why he launched the "Unashamedly Ethical" campaign to challenge the culture of corruption in Africa and beyond.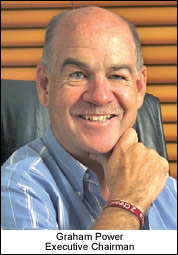 GRAHAM POWER, CHAIRMAN, POWER GROUP, CAPE TOWN, SOUTH AFRICA
He started the company In 1983 with its core purpose "to improve the quality of life in Africa through infrastructure development". The Power Group operates nationally from four regional offices in South Africa: Cape Town (its head office), Knysna, Port Elizabeth and Centurion. The civil engineering arms include Power Construction South operating in the Western, Southern and Eastern Cape, and Power Construction North operating in Gauteng. Power Building is based in Cape Town, but operates nationally. Power Developments is the property development division of the Group, based in Cape Town and also operates nationally from the regional offices. For whilst projects and plant and tenders and technology keep these different companies performing, the Power Group is ultimately about people joining hands, working together towards a shared vision.
Graham explains how his organization is different when compared to other companies: "the people relationships in Power Group are very special, and love and care for each other is undoubtedly the key to our success. I also believe our success hinges on the benchmarking of all operations, where we set goals for hourly or daily productivity. This process is transparent and our people know where the break-even point is, in whatever they do. This encourages the continuous improving of yesterday's productivity and keeps work life stimulating and exciting. We are very conscious of our social responsibility and like to get involved in the communities we work in, often in extremely disadvantaged areas. Another important aspect is our active involvement in the Global Day of Prayer. Through a spiritual revival, I am convinced that Africa, which is often referred to as the 'dark continent', with all the negative sentiments of poverty, unemployment, crime and corruption, prostitution, drug and alcohol abuse and HIV/Aids, will see a major turn-around. I firmly believe God has a plan for Africa, and that we have a role to play in the Transformation of our continent. I am optimistic that God has great plans for the African continent in the coming years and that we can play our part as He continues to bless South Africa and Africa. May He 'hear our prayers, forgive our sins and heal our land' (2 Chronicles 7:14)." Graham also founded "Unashamedly Ethical" (
www.unashamedlyethical.com
) which is a campaign promoting ethics, values and clean living through local communities all over the world. The campaign is built upon three pillars, around which local communities form: A challenge to people to make a public commitment to 'good values, ethics and clean living'. Click
HERE
to view the various commitment forms. An online directory of all signatories (organizations and individuals).A presiding Ombudsman who holds all signatories accountable, and who will review written complaints against any signatory.