Edmonton Post Event Report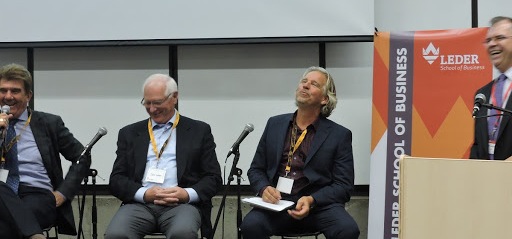 The inaugural "Entrepreneurial Leaders Forum" in Edmonton on September 26, 2016 got off to a great start attracting business, NPO and academic from Edmonton, Calgary, Grande Prairie, Vancouver and beyond.
The feedback from attendees was very positive. Mike O'Leary, President, Young Life of Canada, Vancouver, noted that, "These panelists give the rest of us the courage and inspiration to change and grow, perhaps, with one small step, to honour the Lord in our 'business walk.'" Steve Rowe, Ministry Ambassador, Gideons said: "Great panelists. Great personal stories. Christ centered. I took away a number of nuggets." John Veldkamp, CEO, Christian Credit Union, said "Great learning on how to be a Christian leader in the business world!"
The event was a collaboration between Entrepreneurial Leaders Organization ("ELO") and the Leder School of Business. Dean Elden Wiebe hosted the event and Dr. Rick Goossen, Chairman, ELO, provided opening remarks and MC'd the panel discussion. Leder students provided great volunteer support and contributed to the success of the Forum.
The distinguished panel included three seasoned Christian business leaders. One panelist was John Leder, President, Supreme Steel, after whom the School of Business is named. His company is Canada's largest private steel construction and fabrication firm, with over 1,000 employees at plants across Western Canada and the US Pacific Northwest. John Leder recounted how his business started. He dropped out of university to work as a labourer at a steel company and then quickly became a foreman. He soon left that company. He started off with a pickup truck and his first job was with his previous employer. He faced some early challenges, such as a law suit and a significant non-paying customer, but his faith gave him the confidence to persevere.
John has "an open door policy"—his approach is to talk regularly to employees, pray with them as appropriate and show concern for them. One of the company's values is "compassion" and that has to be manifested in practical actions. John remarked that if we believe God "is in all of life" that includes work. We should then do our work to the glory of God. John also stressed putting your own role as a marketplace leader in its proper context. He explained, that, "What I have realized over time in business, is that it is not about us. That can be very hard to realize. Psalm 115:1 states that not unto us, but unto God be the glory. Too often we focus on ourselves. We focus on what we have done. But it is only through God's grace that there are blessings we receive—they are not earned, they are given."
Another panelist was Dennis Landis, CEO, Prairie Coast Equipment, a large John Deere dealer headquartered in Grande Prairie. The company has 11 stores spread throughout Northern Alberta and BC. Dennis Landis' family has a 105-year history in farming. His uncles bought a single store John Deere dealership in Grande Prairie about 40 years ago. Most expansion has been in the last 7 years by way of merging with other operations.
With 35 years' experience, Dennis talked about living his faith through giving tangible evidence through actions. He stressed the importance of approachability—to be accessible to people in order to have an impact. A person's impact though extends beyond the wall of a company. Dennis pointed out that he meets hundreds of people through his business where he can share his life and faith.
The third panelist was Gordon Wiebe, All Weather Windows, Edmonton, one of Canada's leading window manufacturers with 1,000 employees. Gord has been with the company since its inception in 1978, beginning as Sales Manager and eventually becoming both CEO and Principal Partner. In terms of having an impact at work, he noted the important of the need to "walk the walk" as due to constant interaction with employees who can observe your consistency. Gord shared that discernment is important: "God talks to us—but are we listening?" Gord pointed out the active prayer and listening to God help set his course.
Gord also talked about the value of the corporate chaplain program he initiated at his company with two corporate chaplains on staff. He pointed out that "you have a mission field right underneath your nose" in your company—how are you serving those people? The corporate chaplain program is about serving people. The focus is not on proselytizing—but opportunities to share faith are taken when appropriate and when they are available.
Gord pointed out that corporate chaplains do not deal with human resources issues (i.e. hiring, firing). What has been the result of the corporate chaplain program? "It has helped our business immeasurably. Our turnover has dropped. We have more peace among our people. Immigrants, in particular, have no where to go. All Weather has 46 countries represented in their plant. Our chaplains provide assistance with marriages, funeral services, even practical matters like helping buy a car."
The inaugural Entrepreneurial Leaders Forum achieved its purpose of bringing together marketplace and entrepreneurial leaders from throughout the city of Edmonton, the province of Alberta, and even beyond, in order to focus on greater Christ-centered, difference-making in the marketplace. The authentic and transparent remarks of the panelists reflected God at work in the marketplace.