Carson Pue - "Why Would Anyone Want to be Led by You?"
DESCRIPTION: Do we really understand what it takes to lead? Carson has spent a lifetime studying leadership and mentoring a generation of leaders. He will focus on transformational leadership. In particular he will focus on the essential characteristics of leaders.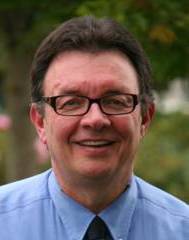 Rev. Dr. Carson Pue is Author of "Mentoring Leaders: Wisdom for Developing Character, Calling and Competency". He is presently Pastor at First Baptist Church, Vancouver, BC and was for many years the president of Arrow Leadership. Arrow's passion and purpose is to identify and significantly invest in the lives of proven, emerging Christian leaders who have a clear anointing and calling by God.
Carson's passion is to come alongside leaders, helping them to be led more by Jesus, lead more like Jesus and to lead more to Jesus.
Carson's academic background includes education, sociology and religious studies. He has a keen ability to speak wisdom into the lives of others in public arenas, small groups and one-on-one. This gifting affords Carson opportunities of mentoring all levels of leaders.
His interests include sailing, reading, music, writing, family and all things Irish! He is husband to Brenda and dad to Jason and Kristin, Jeremy and Shari, and Jonathan, and grandfather to Landon, Liam and McArthur.