Don Simmonds - "How to Create & Sustain an Entrepreneurial Culture"
DESCRIPTION: vision casting and "re-creating vision"; perpetuating innovation and creativity; coping with a changing environment - demographics and tecnhological trends; navigating the founder transition; and understanding the financial realities of an entrepreneurial setting.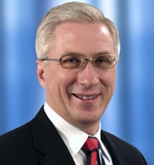 Don Simmonds is the Chairman and CEO of both CTS, a religious Television Broadcaster, and Crossroads Christian Communications, Burlington, ON, which has been a Christian presence in Canadian television for 50 years. Crossroads produces faith and values media and its flagship program, 100 Huntley Street, is watched by over 9 million Canadians each year. Crossroads is also a non-profit aid agency and assists viewers in their spiritual journey thorugh a 24/7 call centre.
Don's business background is a "serial entrepreneur" having been involved in over 20 new ventures in the last 30 years. The businesses cover a diverse range of ideas from consumer audio products to solar electric power to dairy farming! Don was one of seven partners that started the Lenbrook Group in 1977, a private business incubation company perhaps best known for having created Clearnet, one of Canada's wireless networks sold in 2001 to Telus.

Until 2007 Don was the founding CEO of AirIQ Inc., a business providing wireless GPS tracking for all types of vehicles and marine vessels. During his years as CEO, AirIQ was named one of Canada's fastest growing technology companies in the Deloitte Canadian Technology Fast 500 Program and ranked 12th and 17th in PROFIT magazine's ranking of Canada's Fastest-Growing Companies for 2005, 2006. Don was a finalist in the Ernst & Young Entrepreneur Of The Year® Awards in 2005.

Don and his wife Fay have been youth leaders at their church in Uxbridge for many years. From 1991-1994 Don left the business environment to work more intensely with youth as the National Youth Coordinator for Canadian Baptists and then enjoyed being the Executive Director of Toronto Youth for Christ (now Youth Unlimited). From 1980 to 1990 Don served as Canada's representative to Baptist World Alliance Youth and assisted in the planning of world youth conferences in Argentina, Scotland and Zimbabwe.

Don enjoys being a private pilot, serves on a number of profit and not for profit boards, and particularly appreciates the opportunity to coach the young men on the Uxbridge Tigers High School Hockey team whose motto is "winning at hockey and winning in life"!