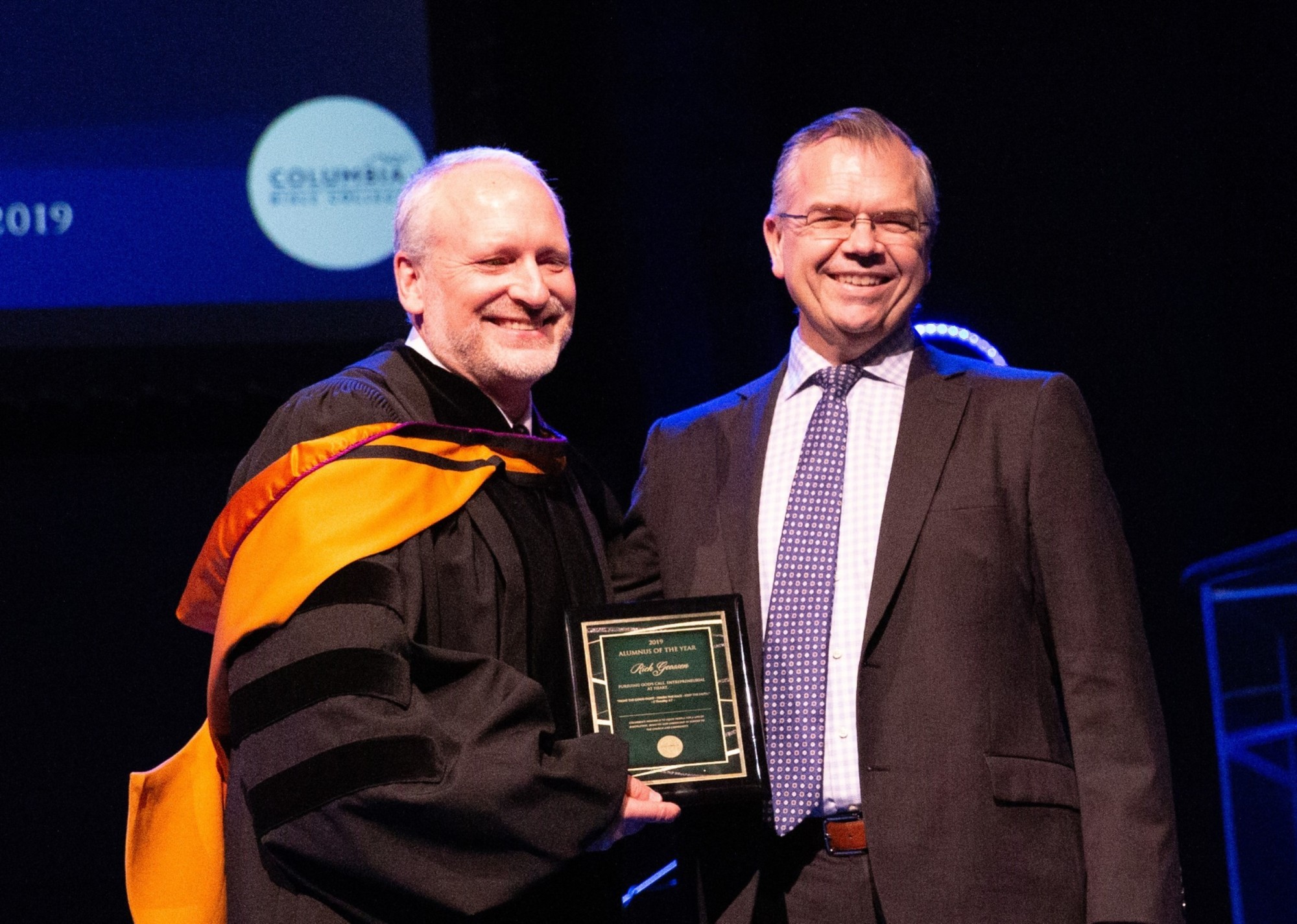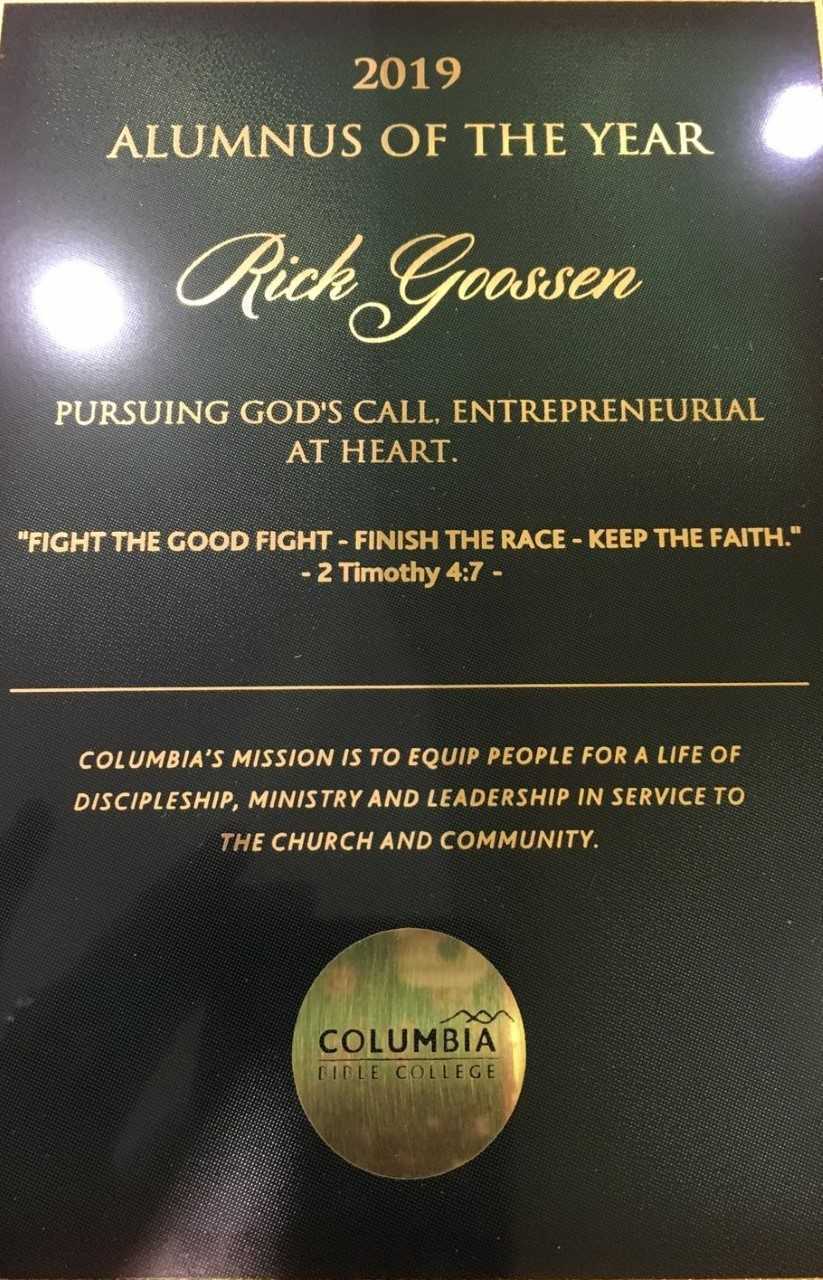 Dr. Bryan Born, President, CBC Presenting Award to Dr. Rick Goossen
Dr. Richard (Rick) J. Goossen was named "Alumnus of the Year" by Columbia Bible
College (CBC), Abbotsford, BC (www.columbiabc.edu) on April 20, 2019. The purpose
of the award is to recognize alumni of CBC who have "gained distinction through their
accomplishments and/or have brought positive change to the community through
Christian leadership."
Dr. Bryan Born, President, CBC remarked that, "Rick has strived to live his calling, in all
spheres of life, including the marketplace. He studied at CBC for one year and then went
on to graduate from SFU, McGill Law, Columbia Law and Middlesex (London). Rick
has had two synergistic tracks of business and research/writing united in a single calling
to encourage believers in their calling to be difference-makers in the marketplace."
"On the business front, he was previously a member of the Law Society of BC and
worked in Hong Kong for five years, with a law firm and a merchant bank. For a number
of years now, he has worked full-time with a Christian business "who's who" of family
business owners and entrepreneurs across Canada with respect to transition, governance
and strategic planning."
"In parallel, he pursued academic interests. He has taught on life and work calling and
has done public speaking around the world. He has written seven books, translated into
multiple languages, on entrepreneurship and leadership. He has interviewed over 300
entrepreneurs and written over 500 articles and blog posts."
"He founded Entrepreneurial Leaders Organization (ELO) to connect, equip and
celebrate Christian marketplace and entrepreneurial leaders. Since 2005 ELO has hosted
over 50 events in Vancouver, Winnipeg, Toronto, Hong Kong and Singapore. Online
and in person ELO impacts almost 100,000 people each year."
"Rick founded the Entrepreneurial Leaders Institute, Wycliffe Hall, University of Oxford,
which offers an annual executive education programme for Christian marketplace
leaders. ELO has also established an ELO Scholarship and an ELO Prize at Wycliffe
Hall."
"Despite many shortcomings, his goal is to be worthy of his calling, to pursue excellence,
be diligent, run the race and reach for the prize."
As part of the commencement ceremony, Dr. Goossen was asked to provide some
remarks to the graduating class. In his remarks, Dr. Goossen spoke to the audience about
each believer's calling can include the call to be an entrepreneurial leader. He cited the
example of Bobby Gruenewald, Founder, YouVersion Bible App, a recipient of the ELO
Entrepreneurial Leaders Award.
Dr. Goossen explained, "The app began as a failed website and has now been
downloaded 370 million times. He was creative. He saw an opportunity. He took a risk.
Eventually it worked. He recognized that part of his calling was to be an 'entrepreneurial
leader.'"
"What is an entrepreneurial leader? There are two parts. First, to be entrepreneurial
means to do something new, unique and different—with practical application. Second, to
be a leader – it's beyond influence; more specifically it's to be aware of how to positively
impact others, "to think beyond yourself." With the two together you can have
exponential impact. Your creativity is divinely-inspired. God is the creator. We are
created in His image. When we engage in creativity—which can't be quantified or
explained—we are close to God."
"Here are some examples where you can learn about making an entrepreneurial
difference." This has been reflected in great church leaders throughout the ages, such as
D. L. Moody. At the 1893 Chicago World Fair he wanted to get the Gospel message out
to attendees. He rented movie theatres—this was a novel idea at the time. Part of our
Christian heritage is that of social entrepreneurs. Did you know, for example, that a
Mennonite lady named Edna Ruth Byler originated "fair trade" in Pennsylvania in the
1940s?
"To close, consider that your calling can include the call to be entrepreneurial leader.
Take a holy risk. As we are reminded in the Parable of the Talents (Matt 25:14-30), we
should take risks for greater return – don't bury your treasure. For the Christian
community we will always need more creative and innovative thinkers—people like you
are or can become—to keep impacting society."
A chief purpose of CBC is to help students explore their calling and the be more effective
difference-makers, bring purpose and peace ("shalom") to a needy world. Dr. Goossen
echoed those sentiments and encouraged, in closing, graduates to live worthy of their
calling (2 Thess. 1:11).