Post Event Report
"FANTASTIC! BEST YET! EXCELLENT!"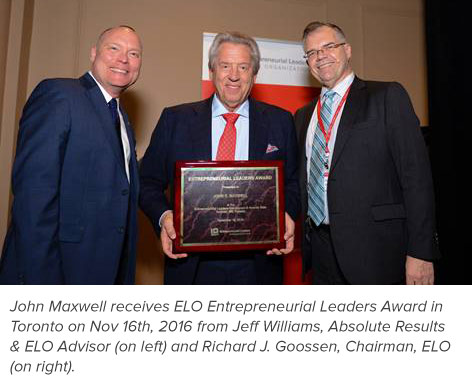 This year's Entrepreneurial Leaders Conference in Toronto on Nov 16th delivered a premium, one-of-a-kind experience, cementing its reputation as the single most important event for Christian marketplace and entrepreneurial leaders in Toronto each year. The international roster of speakers delivered amazing insights, capped by John Maxwell's presentation which garnered a standing ovation.
The collaborative effort spawned from broad-based support has no equal. The event is led by a group of ELO advisors, sponsors, exhibitors, table hosts and volunteers. Attendees came from throughout the GTA and southern Ontario, across Canada, the US and as far away as St. Lucia. Approximately 325 people attended the event. The buzz was in the air.
The event was MC'd by Dr, Richard (Rick) J. Goossen, Chairman, ELO. There were four individual presenters. Russ Crosson, CEO, Ronald Blue & Co, Atlanta, GA, talked about having your financial priorities reflect your life priorities. Misty Lown, Founder, More Than Just Dance, Wisconsin, spoke about her entrepreneurial experience of growing a company in a very competitive industry. Stephen Green, former Chairman and CEO, HSBC Group, gave a big picture perspective of Christian businesses in interesting times. Paul Lafrance, CEO, Lafrance Design, talked about authenticity and vulnerability as new benchmarks in leadership.
There was also a panel discussion on "The Power to Overcome," chaired by Peter Legge, a Vancouver based entrepreneur and speaker. The panelists included Brad Pedersen, Tech4Kids, Mike Reinders, Maple Reinders and Rob Wildeboer, Martinrea Inc. The panels talked about overcoming challenges and there was a Q & A with the audience.
The evening session included a standup interview of Lorna Dueck, CEO, Crossroads Communications, by MC Rick Goossen. They talked about Lorna's new leadership role and the collaboration between Crossroads and ELO to do interviews with marketplace leaders.
The highlight of the evening was the presentation of the "Entrepreneurial Leaders Award" to John Maxwell. Jeff Williams, President, Absolute Results, Vancouver shared about his connection to John Maxwell and their work through the John Maxwell Leadership Foundation. Jeff Williams and Rick Goossen together presented the Award to John Maxwell.
John Maxwell then spoke on the topic of "Intentional Living." With his rich baritone voice, his unique ability to connect with people, a number of great insights, and his trademark humour, the 45-minute presentation seemed to last only a fleeting moment. He received a spontaneous and heart-felt standing ovation.
All attendees who completed the response forms indicated that they would recommend the conference to others and that they want to know if advance regarding next year's event—tentatively scheduled for Wed, Nov 15th .
SOME OF THE FEEDBACK FROM THE EVENT:
"Best ELO event to date. Tremendous quality and sense of purpose and goodwill." – Rob Wildeboer, Executive Chairman, Martinrea Inc., Vaughn, ON
"My entire group of people could not say enough about what they got from the event. Every speaker was a value add to the day and John's keynote was truly the icing on the cake. Incredible impact." - Brad Pedersen, CEO, Tech 4 Kids, Mississauga, ON & Hong Kong SAR
"I'm so grateful attended. The speakers were fantastic, new connections I made, invaluable and a renewed motivation to blend my faith with the work I do in the marketplace." - John G. Charles, President, The Corazon Group, Castries, St. Lucia.
"The Entrepreneurial Leaders Conference is a transformational event which creates exceptional opportunities for both spiritual and professional growth as well as excellent networking opportunities. I will definitely invite my students again to this life-changing and mind-shaping experience!" - Vahagn Asatryan, Ph.D., MBA, Associate Professor, Department of Business, Redeemer University College

"Great and varied speaker panel. Great hearts and messages. Food was excellent. Networking times were good and important. Well timed and right length of time. I had piles of great re-connects with people. ELO continues to be very important to the Christian business community. It is worthy of our time and gifts." – Dave Marshall, Co-CEO & Founder, Marshall Zehr, Waterloo, ON
"This was my second [ELO] event and, like last year, thoroughly enjoyed the day. It is encouraging to see such a diverse group of Christian business professionals (and guests) coming together to network, share stories, and learn from both the speakers and each other." – James M. Stieva, Director, Marketing + Communications, SuperSucker Hydrovac Services, Ancaster, ON
"The event was fantastic; looking forward to more." – Soji Olu, Risk Manager, CIBC, Toronto
"An excellent opportunity-- I recommend it. On a scale of 10, John Maxwell was 10++++." – Ellen W Irmisch, Co-Owner / Director, Tartan Terrois & Arbonne, Toronto
"I would recommend this event. It was a great opportunity to network." – Cary Gordon, Owner, Totally Fit, Oakville, ON
"It's an amazing event that added value on every level to making a better person and leader." – Victor Ajileye, Banking Advisor, RBC, Oakville, ON
"I would recommend this event as a unique conference offering a world-Christian view from high achievers." - Dori Faris, Sales Rep, The Faris Sales Team, Barrie, ON
"I would recommend this event for its value content, speakers and connections" – Jennifer Menard, General Manager, The Bagg Group, Toronto, ON
"I find this to be a stimulating conference of testimonies of grace from backgrounds of uncommon people. Good communication of ideas and encouragement." - Roger Wingfield, Associate Insurance Broker, Broker Force Insurance, Toronto.
"Great event, good networking, great speakers, great food." – Ekron Malcolm, President, Scarborough Dream Centre, Scarborough, ON
"I would recommend this event. I appreciate the available time to network." – Bud Loewen, Owner, Columbia Kitchen Cabinets, Abbotsford, BC
"Great speakers and variety of subjects. Good panel discuss on real business issues and realistic challenges shared by others without fear." – Nathan Mulder, Sales Rep, Grand Eerie HH, Dunnvlle, On
"I would wholeheartedly recommend this event to others. Great opportunity to network with like-minded people who share the same worldview." – Nick Torenvliet, Environmental Design Landscape, Hamilton, ON