NEWS RELEASE – ELO Group is pleased to announce that the Crowell School of Business, Biola University, La Mirada, CA, USA is now a "Partner Organization" with the Entrepreneurial Leaders Institute ("ELI"). Biola will support the ELI's annual executive education course titled the "Entrepreneurial Leaders Programme" (ELP) which is offered in collaboration with Wycliffe Hall, a Permanent Private Hall of the University of Oxford.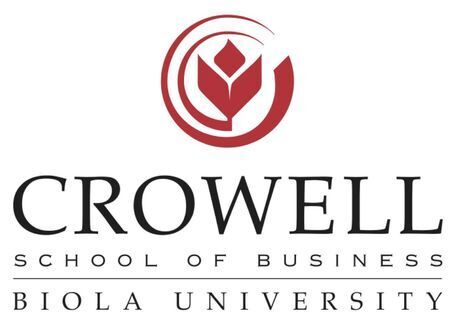 The ELI is establishing a limited number of relationships with Partner Organizations in strategic centers around the world to source suitable candidates for its global cohort and to provide high-level adjunct instructors to supplement its core Oxford faculty. The first Partner Organization for the ELI is the Crowell School of Business of Biola University.
Dr. Gary Lindblad, Dean, Crowell School of Business is familiar with the excellence delivered by ELO Group through its premier programmes and events for Christian marketplace leaders. Dr. Lindblad noted that "I have known Dr. Rick Goossen and the work of ELO Group for five years, and I continue to be impressed and thankful for the Christ-centered business development experiences he brings to marketplace leaders. The Oxford ELP has proven its transformative value, and now we are thrilled to partner with Rick to make this world-class executive program available to our business community and network."
The ELP equips Christian marketplace and entrepreneurial leaders for more effective difference-making in their spheres of influence. The ELP is the premier course of its kind, based at one of the world's leading universities, attracting Christian business people from around the globe, and taught by world-class Oxford and international adjunct faculty. In addition, Dr. Scott Rae, Professor of Christian Ethics at Talbot School of Theology, Biola University, will be an Adjunct Instructor in the Oxford ELP 2020 offering.
Now in its third year, the 2020 ELP will be held August 16th to 22nd and is a one-week intensive and transformative experience for Christian marketplace and entrepreneurial leaders from around the world. The ELP is designed for entrepreneurs, owners, and senior leaders of for-profit businesses with a minimum of 10 years track record of success. The ELP provides a dynamic and interactive environment, with learning from world-class instructors and from a global and diverse cohort of peers.
Dr. Goossen is the Director of the ELI and the Course Coordinator and manages the involvement of various guest instructors from Oxford and beyond. Instructors in the ELI include world-renowned biblical scholar N.T. Wright and Oxford professor and apologist John Lennox.
For more information and to apply to be a participant in the ELP, please go to (www.ELOOxford.com), or contact or Dr. Rick Goossen via Admin@ELONetwork.org.