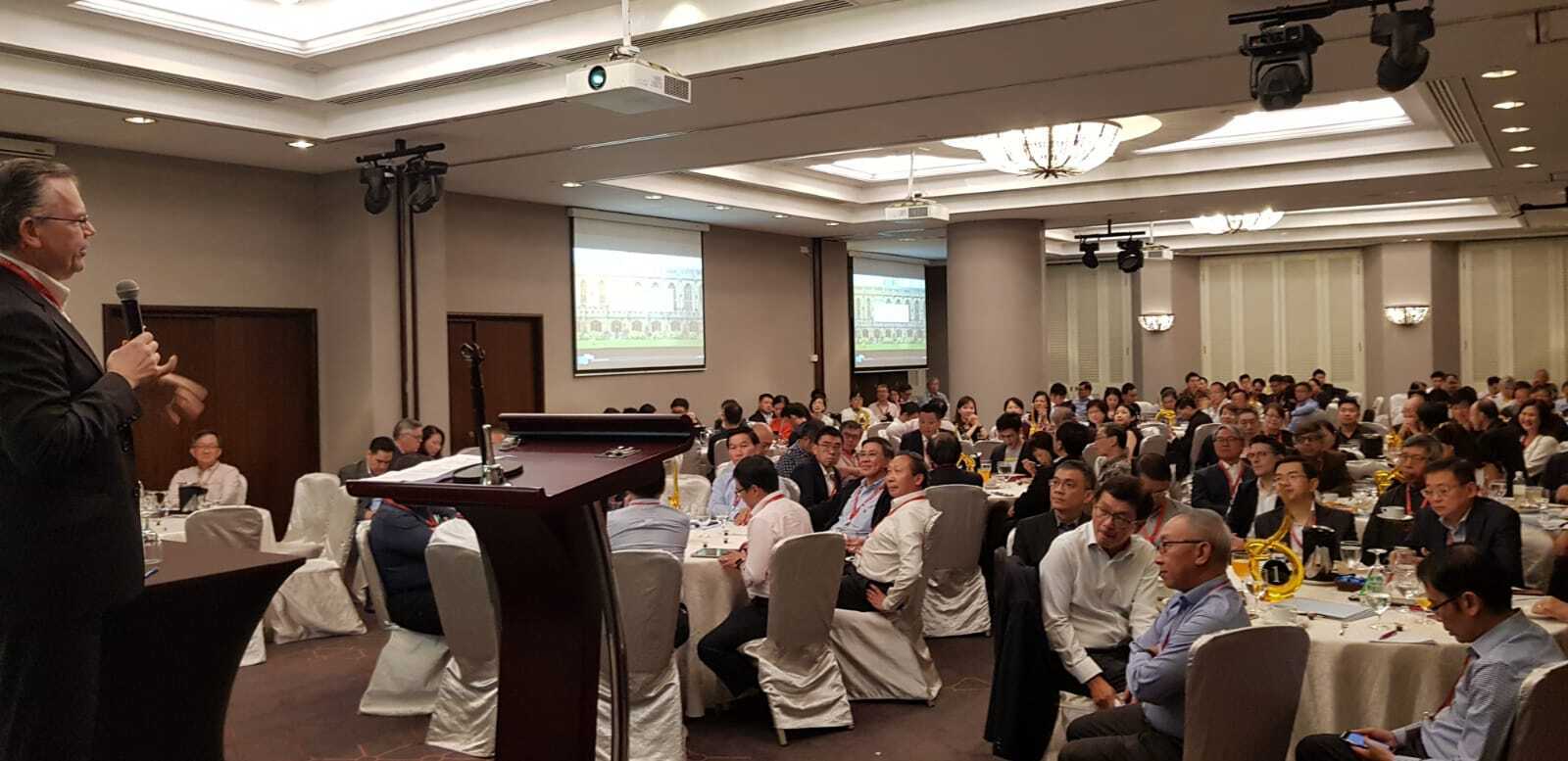 NEWS RELEASE - SINGAPORE – JUNE 26, 2019 - "Fantastic!" "The speakers were "very insightful." "Great reminders and encouragement." "I would recommend this event because Christian leaders need to meet and learn from one another."
The 1st Annual ELO Forum in Singapore on June 25th was a resounding success in front of a packed house! How is success defined? The purpose of ELO is to connect, equip and celebrate Christian marketplace and entrepreneurial leaders. A crowded ballroom heard a range of speakers, hailing from Canada, the US, Indonesia, Malaysia and Singapore. Attendees were from Singapore, throughout the region and as far away as Korea.
Attendees commented on the humility of presenters and their willingness to share about the ups and downs of the marketplace. This was balanced by a sense of humour throughout, with many gut-busting moments of laughter erupting in the hall.
The afternoon keynote was delivered by the Hon. Gregory Slayton, Chairman, Slayton Capital and Founder/Chairman Fellowship of Fathers Foundation He spoke eloquently and impactfully on "Leadership in Destiny: How you can be a great leader at home, at work and your community."
There was great feedback on the Forum. Mrs. Constance Peck, Constance Peck Pte. Ltd. noted that, "The individual's dedication and commitment to Christ of each of the speakers. It is inspiring. Sharing on their part is spontaneous and authentic. I like their candour." Wilfred Tan, Check Point, commented that, "Rev. Chan's message was particularly encouraging and thought provoking, but yet very much relevant for Christian leaders."
ONG Sze Yee Royston, Thales Solutions Asia Pte Ltd. explained that, "I am blessed by Dr. Jeffrey Jaensubhakij being open, honest and humbled by his failings. He truly appreciates the importance of family, protected time and balance between grace and truth." One person commented that, "Gregory Slayton and Rev Edmund Chan deserve special mention because they were especially engaging and able to incorporate humour well for the audience's learning benefit."
Attendees referred to various take-aways from the Forum. "Simplify life. Clarify my life goals in line with God." "To learn to pause and reflect on God's calling in our marketplace rather than simply running the race for ourselves." Another said, "The importance of soul care for effective leadership." LAI Junxu, Omnimed Healthcare Holdings noted, "The importance of taking care of one's roots that are the foundation of a company." Bryan Zhao, Harvest Accounting Pte. Ltd. commented that, "Restedness and being centered on God. Good stewardship of your calling to business."
Dr. Goossen commented that, "The first Forum in Singapore exceeded our expectations. A packed house was able to get a flavour of ELO events, the pursuit of excellence and the desire for large impact in the marketplace. People were equipped, connected and inspired. New connections were made and seeds of relationships were started. The Forum was a unifying factor, bring in leaders from the spectrum of the Christian community. There is no other event like the ELO Forum in Singapore—this is a great foundation to build upon for next year!"
FOR MORE DETAILS CLICK HERE.