Endorsements
---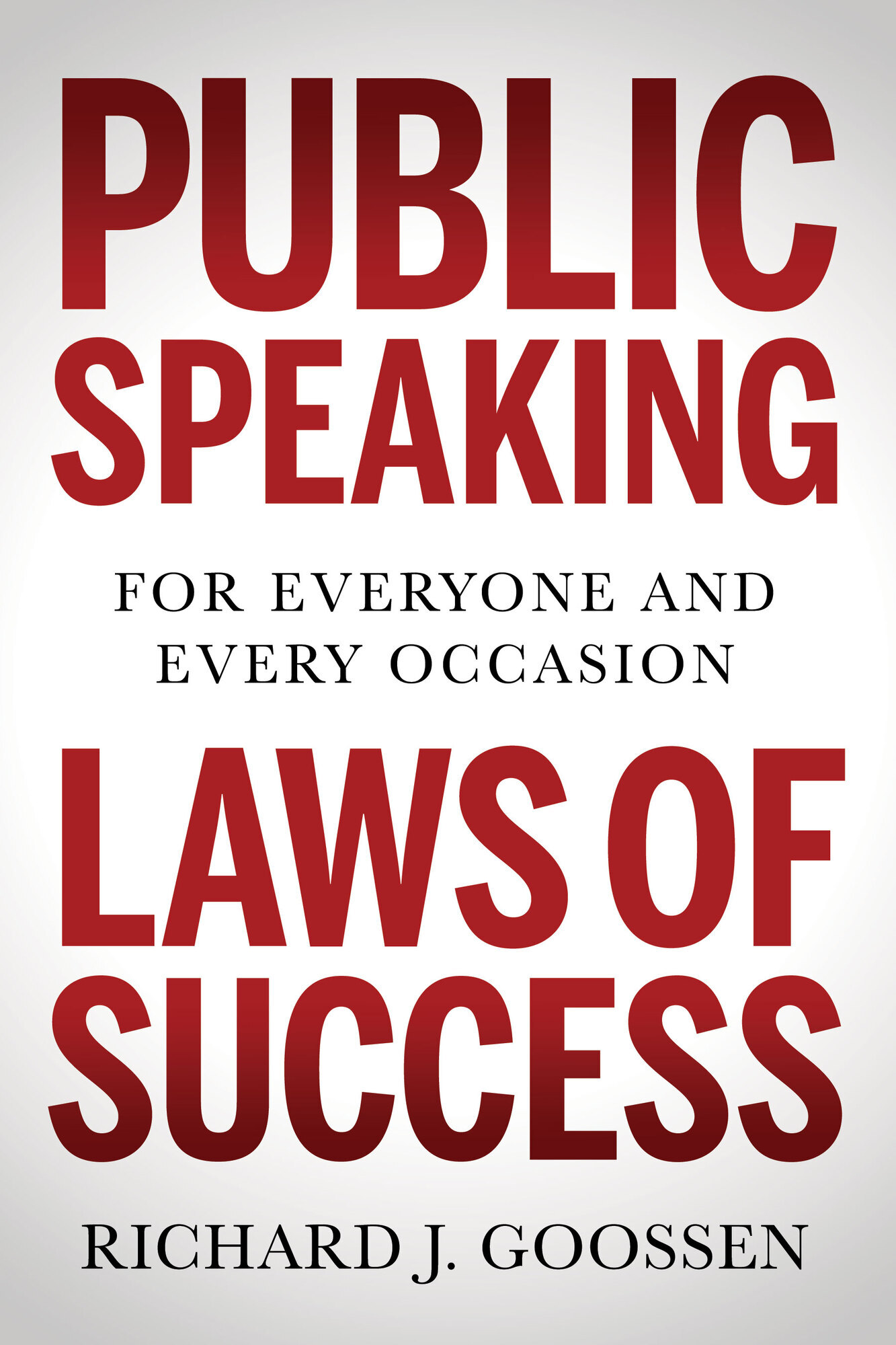 Public Speaking Laws of Success: For Everyone and Every Occasion (New York, NY: Morgan James) by Richard J. Goossen will be released on September 28, 2021! Prior to the public release and distribution at bookstores, copies are available in bulk directly through ELO. For further information on individual review copies or bulk sales contact: Admin@ELONetwork.org.
---
ENDORSEMENTS
"Reading this book has made me realize what an honour it has been for me to participate in several ELO events and I wish to heartily recommend it to all who aspire to public speaking, no matter how competent they think they are. It makes for compulsive reading, being a delightful distillation of years of experience that is full of (sometimes hilarious) illustrative stories of what can go right, and, more importantly, what can go wrong with attempts to communicate to an audience. Its practical wisdom rings true to experience to such an extent that if I had read it fifty years ago, it would have saved me having to learn many things the hard way. Reading it now may well save me from many more! " John C Lennox, Emeritus Professor of Mathematics & Associate Fellow, Said Business School, University of Oxford
"This book captures in 50 laws, based on stories, all the things you need to know about the basics of public speaking to be part of the top 10% of all speakers you ever hear. The risk of not reading this book and still speaking in public will be costly—don't be collateral damage on the road to your dreams." - Pat Williams, NBA Hall of Famer & author of Revolutionary Leadership, Orlando, FL
"This book could not come at a better time when many of us are required to do some form of public speaking such as in a Zoom session which can be very daunting in an open session or in making presentations and pitches. The principles that Rick Goossen outlines in his book are highly practical, useful, 'easy to use and grasp' with a broad appeal reflecting Rick's lifelong passion of speaking well whether in public or private. From an Asian viewpoint where public speaking or speaking in class is often not a natural, this is a very instructive book for those who are grappling with this required skill in the new economy. Speaking from personal experience, this book reminds me of the first book I read on this subject and I wish I had read this before Dale Carnegie's book." - Dr Bill Foo, Chairman Tung Lok & Advisory Board, Salvation Army, Singapore
"I wish Rick Goossen's valuable book Public Speaking Laws of Success had been published years ago as it would have improved my speaking abilities a lot. Public Speaking Laws of Success will enable you to become a more competent and confident speaker. I highly recommend you buy this book and read its stimulating stories and learn some of the inside habits and secrets of successful speakers. I am sure you will enjoy this book and find it a valuable resource in developing your speaking skills." - Dr. Peter Legge, OBC, LLD (HON), CPAE, CSP, HOF, Chairman and CEO of Canada Wide Media Ltd., Vancouver, Canada
"Success in public speaking leaves clues. Rick Goossen has not only mastered public speaking for himself, but has interviewed, studied and spent time with some of the greatest speakers alive today. I am calling this the must-read book for achieving mastery in public speaking. This book will be your guidebook for unleashing your potential to become a great public speaker." - Brad Pedersen, Co-founder & Chairman of Open Mind Developments Corporation (Pela), Kelowna, BC & Hong Kong SAR
"Rick Goossen has done it again! Public Speaking Laws of Success offers readers a timely, practical and real-world handbook for all manner of speaking engagements. Reading it, and using it as a tool, will dramatically raise your effectiveness as a public speaker and perhaps even more importantly your overall power of persuasion as a communicator. We have worked with Rick since 2004, and I have witnessed first-hand the legacy of his work. He is that rare force in the world of public speaking who organizes important speaking events, is an avid audience member who listens to great speakers around the world and is a world-class public speaker himself. In short, he has achieved the 'trifecta' of public speaking! After presenting and teaching our research on entrepreneurship to over 6 million people, in some 40 countries, across 9 languages for the past 4 decades, we have learned a few things about public speaking. And one thing I know for sure – Public Speaking Laws of Success is a book I wish I had read 40 years ago!" - Larry C. Farrell, Founder/Chairman, The Farrell Company, VI & AZ
"Rick Goossen is an expert at obtaining maximum impact. Whether discussing financial investments, organizing a conference, or delivering a speech, he instinctively knows how to get enviable results. Now you have access to his considerable wisdom. Communication has never been more critical. In this insightful, practical, highly readable book, he will help you become a speaker who moves people to action." - Richard Blackaby, President, Blackaby Ministries International, Experiencing God, Spiritual Leadership, Jonesboro, GA
"Rick is not just an excellent public speaker personally. He has also studied many masters of this craft up close and personal. I'm confident this book will be chock full of valuable wisdom for those looking to hone their craft of communicating from the stage." - Jordan Raynor, national bestselling author of Called to Create and Master of One, Tampa, FL
"Over the past three decades or so, I have been an MC and spoken at many webinars and conferences on all the major continents around the world. I have never ever read a book that's as relevant and practical as Dr. Rick Goossen's Public Speaking Laws of Success. Having roots in Vancouver, and now living in Hong Kong, I can attest that Rick's book will appeal to a wide array of readers in both the West and the East as all of us can get so much out of this 'true bible of public speaking!' - Eric C.L. Poon, FCIM, Executive Vice Chairman, Association of Family Offices in Asia, and Founder, ePGA, Hong Kong SAR, CHINA
"As a fellow speaker, and even more so, as an audience member, I implore you to read this book and help raise your personal speaking game. I've done a lot of speaking at public events, which means I've also had to sit through a lot of speaking at public events. I've heard some of the best and some of the worst. Mostly, I've heard mediocrity. That's tragic, because as Rick Goossen shows, mediocrity is optional. It's not that speakers decide to be bland and meandering, it's that they don't decide not to be.
One more thing: there are a lot of books already about public speaking, but this is the first one I've seen in the age of Covid-19. Why does that matter? Because the rules are different for "Zoom" than they are for "room". Rick helps us to understand how to adapt to an environment in which video presentations are going to be much more common, even after the lockdowns are over. - Jerry Bowyer, entrepreneur, economist, author & public speaker, Pittsburgh, PA
"Everyone who strives for growth and stepping up as a leader will need to master the skills of public speaking. I have known Rick for many years. He is not just an exceptional speaker but also a man who always delivers and makes an impact. Public Speaking Laws of Success is truly a must-read for any leader or leader to-be." - Justin Leung, Board Member, YCP Holdings Limited, Advisor for Hong Kong Cyberport, an entrepreneur and devoted educator, Hong Kong SAR, CHINA
"Listening to a poor speaker is bad: hiring one is worse. Rick hires speakers, so he knows from a lifetime's mixture of scintillation and squirming what works and what doesn't. He has distilled fifty principles from this experience, which can turn a novice into a veteran and a seasoned speaker into a sought-after expert. This easy-to-read book will help you become an easy-to-listen-to speaker, and I recommend it to all who have a modicum of compassion towards long-suffering audiences!" - Revd Dr Michael Lloyd, Principal, Wycliffe Hall, University of Oxford
"Whether you're making the business presentation your career hangs on, or you've been asked to emcee the upcoming holiday party, this new book from my friend Rick Goossen will equip you for success. This is not only an essential, great read for any budding or experienced public speaker, it's entertaining while revealing its many insights. And these public speaking truth nuggets travel well, just like the author. Whether you're speaking in the north, south, east, or west, each law is grounded in Rick's unique experience- and he's had lots of it. Like every event Rick designs or speaks at, this book will keep you entertained with real-to-life stories, illustrations, and examples that clearly make and powerfully reinforce the main point. Don't speak in public without it!" - Dr. Gary Lindblad, Dean, Crowell School of Business, Biola University, La Mirada, CA, USA
---
GET THE BOOK
The retail price is US$17.95 and copies of 25 or more can be purchased at $12.50/copy and for 50 or more at a price of $9.95/copy (in addition to shipping and handling).
Dr. Richard J. Goossen provides webinars, workshops and keynotes on public speaking laws of success for companies and organizations. In particular, Dr. Goossen covers public presentations in a digital environment (whether a webinar, online conference or online business meeting).
For further information contact: Admin@ELONetwork.org