Oxford & Wycliffe Hall
---
The University of Oxford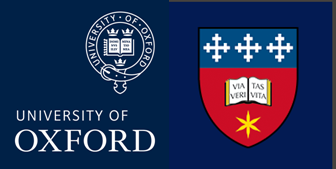 Oxford is a vibrant and stunning city, with a total population of 150,000, including over 30,000 students. There is a wealth of cultural, recreational, and sports facilities within a busy and cosmopolitan atmosphere.
Although Oxford is a bustling city, it is an architectural delight, placed in the heart of the Oxfordshire countryside and surrounded by ancient meadowland. Oxford boasts beautiful waterways, the oldest botanic garden in the country, the University Parks, Port Meadow, and innumerable college gardens and quads, so that you are never far from tranquillity and escape.
Oxford has an enduring history of Christian witness, and the Christian faith continues to thrive here. From John Wesley to C.S. Lewis, many influential Christians have walked these cobblestoned paths. There are flourishing churches of different sizes, liturgies, and traditions that are passionate about making the good news of Jesus known.
The University of Oxford is the oldest university in the English-speaking world, founded near the turn of the twelfth century. Today, the university consists of 38 independent colleges and 6 permanent private halls. The collegiate system is at the heart of the university's success.
---
Wycliffe Hall
Wycliffe Hall is a Permanent Private Hall of the University of Oxford. It has a unique calling to be advocates of the historic Christian faith and to equip the Christian leaders of the future. Wycliffe Hall, which collaborates with ELO, has a track record of doing so with many other organizations. For example, Wycliffe Hall has a long-standing partnership with the US Council for Christian Colleges & Universities (CCCU) bringing North American students to engage in study at Oxford.
---
Why This Can Only Happen at Oxford
The ELI is very strategically situated at Oxford. This is the only place in the world where we can combine the credibility of one of the world's top education institutions and teach from a Christian worldview perspective. You can't do this at Harvard, Columbia, or McGill. Why?
Oxford's system is unique with 38 colleges and 6 Permanent Private Halls ("PPHs"). The PPHs that are part of the University of Oxford can retain their Christian character. For example, Wycliffe Hall became a PPH in 1996 within the University of Oxford in recognition of its established reputation as a centre of high-quality education. As a result, Wycliffe is an integral part of the University and all students are registered on University-recognised degrees and courses. Importantly, however, Wycliffe retains its independence, being governed by an independent Council whose members must sign the Hall's Trust Deed. This deed safeguards the Hall's evangelical commitment to biblical theology and Christian mission.
This combination – being an integral part of the University yet also independent – gives Wycliffe Hall its distinctive status. As stated on their website,
"We are a community that is committed to the historic Christian faith, while also being a constituent part of one of the world's leading universities. This unique combination gives us a unique calling, to be advocates of the Christian faith within contemporary University-level debates and to equip the Christian leaders of the future by engaging students in rigorous theological study at the highest possible academic level."
This is a fundamentally different dynamic than North American universities, many of which started with religious and typically Christian roots, but which long since been discarded. In short, Wycliffe with its unique position could not exist in North America or other parts of the world. The result is that the Entrepreneurial Leaders Program can provide world-class instruction from a Christian perspective within the heart of one of the world's great universities.
ELO is pleased to collaborate with Wycliffe as it believes Wycliffe is in a position of strategic importance to the greater Christian community worldwide.