---
2020 OXFORD PROGRAMME RESCHEDULED: The global COVID-19 pandemic has caused health, economic and travel challenges. In light of the challenges surrounding the COVID-19 pandemic and quarantine implications for travel we have rescheduled the Oxford Programme for August 15th – 21st, 2021.
---
2021 Oxford Entrepreneurial Leaders Programme
"Imagine a full week of classes taught by some of the finest thinkers and teachers on this planet in the most prestigious university in the world, Oxford University, all while learning and interacting with fellow Christian leaders. Your business will flourish and your life will change – all in one week! Do it!"
– Dr. Peter Legge, O.B.C., CSP, CPAE, HoF
---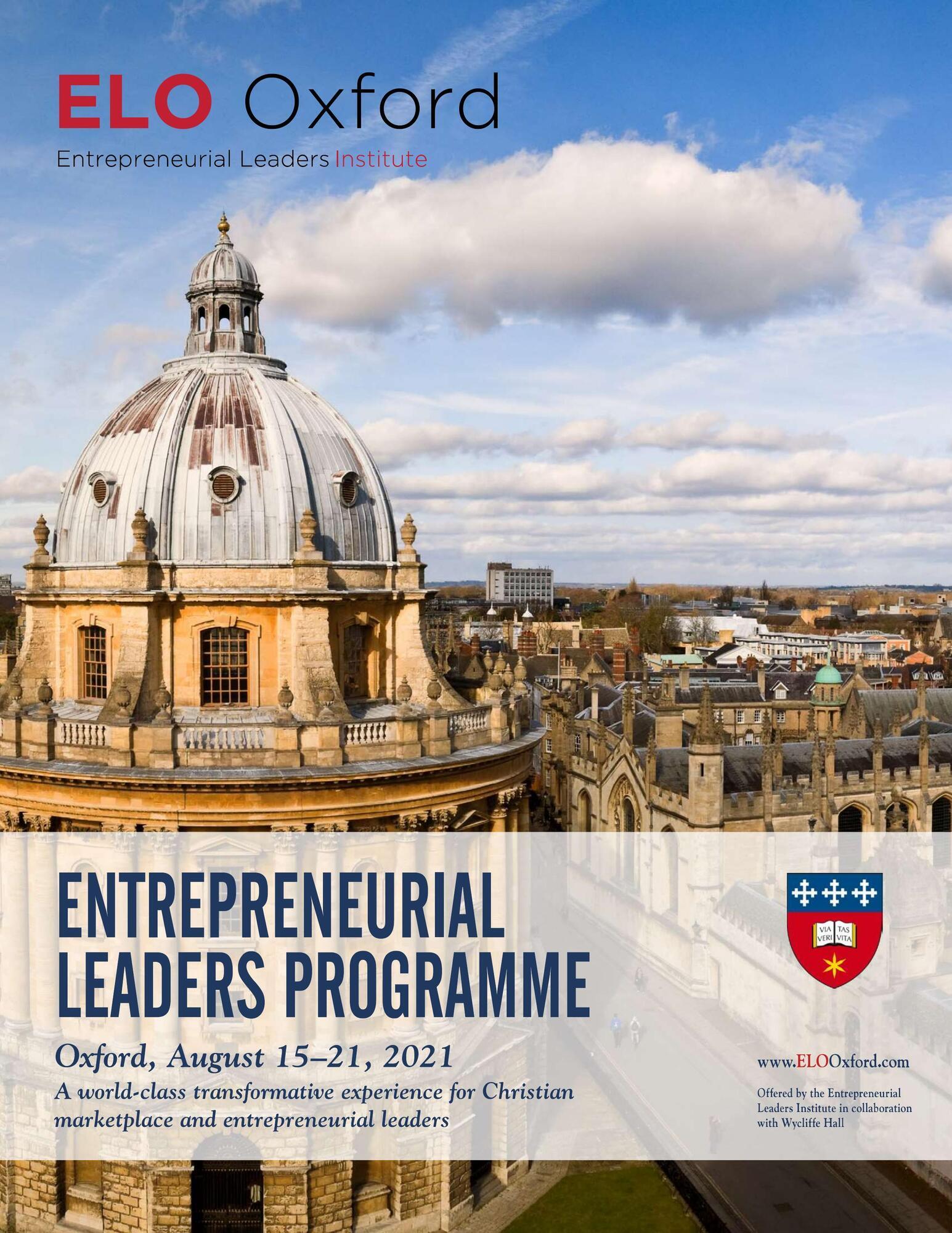 The next Oxford Entrepreneurial Leaders Institute programme will be held from Sunday, August 15th to Saturday, August 21st and builds upon the success and momentum of the past two years. The Entrepreneurial Leaders Programme has established itself as the world's premier programme for Christian marketplace and entrepreneurial leaders to be equipped to be more effective difference-makers. The Oxford Programme combines a clear curricular focus, great instructors, outstanding cohort and an exceptional ambience–together creating a unique experience. The 3rd Annual Oxford Entrepreneurial Leaders Programme will take place from August 15–21, 2020.
Click the photo to view the 2021 Entrepreneurial Leaders Programme Brochure.
2021 Added Value
All individuals who have been accepted into the Oxford Programme and who have paid the full tuition will be classified as part of the "Oxford 2021 Cohort" and thus will be eligible immediately to be part of a series of "Oxford Cohort Roundtable" leading up to the residency in Oxford in August 2021.

Each Zoom roundtable meeting will include an opportunity for cohort members to introduce themselves, their present work, their ministry focus & their calling. In addition, we will provide regular updates from Oxford. We have an amazing group of cohort members and you will enjoy getting to know your fellow registrants! As a result, when you arrive in Oxford you will already have expedited the relationship-building process with your fellow cohort members.
If you wish to join the 2021 cohort and be part of the Oxford Cohort Roundtables, you can begin the application process by filling out a Request For Information.
Oxford Programme Overview
The goal of the Entrepreneurial Leaders Programme is to equip successful Christian marketplace and entrepreneurial leaders to leverage their resources for greater difference-making in their respective spheres of influence such as business, church, non-profits and society.
Are you successful in many areas of your life—and yet you have a yearning to expand your difference-making potential, to make your life count, and to build a spiritual legacy? If so, this programme is for you.
The programme is targeted towards owners of for-profit businesses with a minimum of 10 years' track record of success. It will be a dynamic and interactive environment, with learning from world-class instructors and from a global and diverse cohort of peers.
The ELI integrates guest presenters from Oxford (including Wycliffe Hall) and from around the world. The programme content is rooted in decades of experience, extensive research and many years of practical application.
The Entrepreneurial Leaders Institute offers its programme in collaboration with Wycliffe Hall, a Permanent Private Hall of the University of Oxford. The Entrepreneurial Leaders Institute is part of the Entrepreneurial Leaders Organization (ELO) (ELONetwork.org), which has an unmatched track record of excellence in executive education events.
In addition to world-class instruction, the ambiance of Oxford will be inspiring for participants. The 850-year old university city with its fabled spires and medieval colleges, along with various other attractions, is unmatched in the world.
The bottom line: there is no equivalent to this high-level Christian leadership education at Oxford to be provided through the ELI. We invite you to join an outstanding group of global difference-makers.
---
FOR FURTHER INFORMATION:
For further information and to apply for the Entrepreneurial Leaders Programme, please fill out and submit a Request For Information. Once we receive the completed form we will follow up promptly. Thank you for your interest in the Entrepreneurial Leaders Programme. In the event that you have any questions please contact us at Tessa@ELONetwork.org