Herta von Stiegel - "The Mountain Within:Leadership Lessons & Inspiration for Your Climb to the Top"
DESCRIPTION: Herta led a multi-national and multi-ability team to climb Africa's highest mountain - Mt. Kilimanjaro. The leadership lessons she learned have been the subject of an award-winning documentary and widely-distributed book. She will share those lessons with us first hand.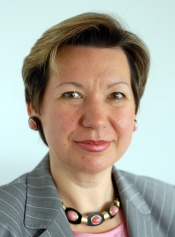 Herta von Stiegel is Founder and CEO of Ariya Capital Group Limited, a financial services firm focusing on sustainable investments in Africa. The firm operates from London, Gaborone and the Chanel Islands and focuses on three mutually reinforcing sectors: clean energy, financial institutions and telecommunications.

An international executive with a consistent track record of building profitable structured finance businesses, she held senior positions at Citibank and JP Morgan and until 2005 was Managing Director at AIG Financial Products, the financial services division of American International Group Inc. A US tax lawyer by training, Mrs. von Stiegel practiced law prior to becoming a banker specialising in international taxation and mergers and acquisitions. She holds a Juris Doctor degree from Thomas M. Cooley Law School in Michigan, a Masters of Law degree in Taxation from New York University School of Law, a B.A. from Andrews University and completed the Executive Program in Corporate Finance at the London Business School. She is a member of the State Bar of Michigan and New York.

She serves on several boards in the corporate and not-for-profit sectors, including Camco International (a publically listed global clean energy developer with significant operations in China, the US and Africa) and Opportunity International, a global microfinance organisation with multiple financial services subsidiaries. Mrs von Stiegel founded and until June 2010 chaired the Prince's Trust Women's Leadership Group (www.princes-trust.org.uk) and serves on the board of The Committee of 200 (www.c200.org), where she chairs the C200 Foundation.

In July 2008, Mrs von Stiegel led a multi-national and multi-ability team to climb Africa's highest mountain – Mount Kilimanjaro, and co-produced the inspirational award-winning film "The Mountain Within". Despite the climbers' physical challenges, sixteen of the twenty-eight climbers (almost sixty percent) reached the top – a significantly higher result than the usual statistic of 35 percent of climbers who reach the summit. Her book with the same title as the film and subtitled "Leadership Lessons and Inspiration for your Climb to the top", has been published by McGraw Hill and released in all major English speaking countries in August 2011.

A popular and highly sought-after speaker, Mrs von Stiegel has been featured in the media, including on CNBC, Fox, Bloomberg, the BBC, SA FM (South African radio), BBC Radio 4 and financial print media, including the Financial Times.

Born in Transylvania, Mrs von Stiegel has lived and worked in numerous developed and emerging markets, is a citizen of the United States and the United Kingdom, bilingual in English and German and fluent in Romanian.