NEWS RELEASE – WINNIPEG – FEBRUARY 25, 2020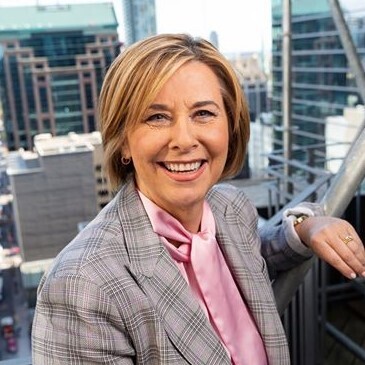 ELO is pleased to announce that Lorna Dueck, CEO, Crossroads Communications, will be the recipient of the "Entrepreneurial Leaders Award" to be presented at the ELO Forum in Winnipeg on April 29th, 2020. Dr. Richard J. Goossen, Chairman, ELO noted that "Lorna has been a highly credible, insightful and balanced Christian perspective in the Canadian media landscape for many years—she has had a tremendously positive influence within and beyond the Christian community. She is a very deserving recipient of this year's award."
The purpose of the Entrepreneurial Leader Award is to recognize the track record of a person who has been an impactful difference-maker over an extended period of time. The recipient is a person who has either founded or guided an organization and who can serve as an inspiration to others to pursue Christian entrepreneurial leadership. Past recipients have included Paul Henderson (Canadian hockey legend), John Maxwell (one of the world's top leadership experts) and Mark Burnett (one of Hollywood's top TV executives). Last year's recipient in Winnipeg was John Courtney who had guided Youth For Christ for 47 years.
The presentation of the Award in Winnipeg is fitting due to Lorna's connections to the province. Lorna began her radio career with Golden West Broadcasting of Altona, MB. Lorna had come from her home in St. Catherines, ON to Manitoba to attend Bible college. She subsequently studied at Red River Community College and the University of Manitoba. Further, many of her key supporters that allowed her to launch her national presence are based in Manitoba.
Lorna has explored the intersection of journalism and Christianity for over 30 years. Lorna has hosted the award-winning TV program Context with Lorna Dueck, which featured news analysis from a Christian perspective. Most recently, in 2016, Lorna was appointed CEO of Crossroads Christian Communications Inc., home to Canada's longest-running daily talk show 100 Huntley Street. In addition, Lorna serves in the role of CEO to the YES TV network, a commercial television station committed to positive, family-friendly entertainment programming.
Lorna is also a commentary writer on faith and public life in Canada's leading national newspaper, The Globe and Mail, and a frequent media commentator. She has travelled the world reporting on the church-led response to humanitarian crises, creating media campaigns around that reporting. She has published hundreds of articles in various outlets.
Lorna completed a Bachelor of Religious Education at Tyndale University College in Toronto and earned a Master of Arts in Evangelism and Leadership from Wheaton College. She has received honorary doctorate degrees from Trinity Western, Tyndale and Briercrest Universities. Lorna has been honoured with the Queen's Diamond Jubilee Medal for contributions to Canadian society. Lorna and her husband, Vern, of over three decades, live in Burlington, ON, and delight in the adventures of their grown son and daughter.