Winnipeg Post-Event Report 2018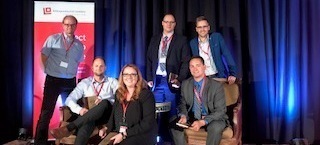 NEWS RELEASE – WINNIPEG, CANADA – MAY 24, 2018 – Yesterday's 3rd Annual ELO Forum in Winnipeg once again brought together Christian marketplace leaders from throughout Manitoba and across Canada. This was another opportunity to "connect, equip and celebrate" Christian marketplace leaders and to continue to build momentum in Winnipeg.
What was the feedback? "Great event—loved it!" said Grant Smadella, Station / Sales Manager, Golden West, Winnipeg "Great event. The afternoon session was excellent," noted Kevin Swart, Manager, TYJ Property Investments, Winnipeg
This year's ELO Forum was successfully built upon last year's evening-only event to a full-day conference. There was an afternoon session and an evening sit-down dinner.
The afternoon session included some variety. There was a Q & A with Gil Scott, Founder, Gil Scott Sports Management, on "A Lifetime of Faith in Sport." Gil represents coaches and players in the CFL, NFL and NHL. He has negotiated over 500 contracts during a 30 year career.
Gil was interviewed by Rick Goossen, Chairman, ELO, who also MC'd the proceedings. Gil spoke about the opportunities and challenges of practicing faith in the marketplace. He also highlighted the valuable role of Christian marketplace leaders getting involved in the boards of Christian NPOs.
The afternoon session also included a new initiative by ELO, which was a workshop called "Gold of the Desert Kings". The workshop was "powered" by Eagle's Flight (www.eaglesflight.com) which is a world leader in what is called "experiential learning." The afternoon crowd was divided into teams of about 5 people each and they play a carefully-crafted game to get gold from the mountains and bring it back home—without dying in the desert. There was then a debrief in which an Eagle's Flight facilitator highlighted the lessons learned.
How was the workshop received? Here is some of the feedback. "I really enjoyed the [Eagle's Flight] workshop as it has a very practical application to anyone's situation, circumstance & career." – Scott Masterson, Director of Athletics, Providence University College. "I would recommend this event, because there are valuable teachings, lessons, speakers and information that others can learn from." – IBK Akin, Provincial Director, Child Evangelism Fellowship of Manitoba. "I thoroughly enjoyed the workshop." – Abraham Simon, Director of Sales and Operations, The North West Company.
"This event has a positive, welcoming environment and you are able to learn a lot in a little amount of time." – Amy Brown, Alumni Relations, Providence University College. "The quality of business learning is high. It's great to pause and be challenged and charged up for entrepreneurial effectiveness." - Lorna Dueck, CEO, Crossroads / Yes TV, Burlington, ON. "Great learning experience and team building. Great fellowship with the team." – Albert Loewen, Sales & Marketing Director, Carfair, Winnipeg.
The evening keynote on "The Dynamics of Faith-Centered Leadership" was delivered by Phil Geldart, Founder and CEO of Eagle's Flight. Phil has a classic entrepreneurial story. He started the company in his basement has grown it over 30 years to having materials translated into 25 languages and having a presence in 35 countries around the world. He works with over 50% of the Fortune 500 companies.
Phil's approach in his keynote was to both illustrate how God's word influences his own leadership thinking, and also to provide what he felt are three essential behaviors for leaders aspiring to be great in today's world. The three priorities he believes are critical to effective leadership: the power of team; the power of clarity; and the power of the individual. He concluded his keynote by showing how he tries to lead as an entrepreneur, yet within the context of also being a disciple of Christ.
What was the response to the evening keynote and, indeed, the whole event? "I thought Phil [Geldart] did a great job. The booths [exhibitor tables] were interesting. I was challenged and motivated by the event." – Art Alexander, President, Art Alexander & Associates. "Great way to connect and to listen to great speakers." – Kyle Wiebe, President & CEO, Maverick Industries, Morden, MB. "I would definitely recommend [the ELO Forum] to entrepreneurs within my circle of influence. It was very encouraging for me and I believe would be especially for young entrepreneurs." – Larry Dyck, President & CEO, Décor Cabinets, Morden, MB. "I was very impressed for several reasons and I would highly recommend it." – Brent Horrill, Manager, Powell Property Group, Winnipeg. "I would recommend [the ELO Forum] based on the speakers and topics." - Cornelius Martens, Principal, Marwest Group of Companies, Winnipeg.
In short, this year's 3rd Annual Forum achieved its three-fold objectives in line with its tag line. First, there was an opportunity to "connect." There was a wide range of marketplace leaders who had ample opportunity to mix and initiate new relationships. The second objective is to "equip." There were many insights and learning opportunities focused on faith in the marketplace. Third, there is "celebrate." We were able to affirm the calling to the marketplace and the potential for much impact. The objectives of ELO were met through the dedicated effort ELO advisors, sponsors, table hosts and volunteers.