Post-Event Report
ELO FORUM TORONTO 2018 POST-EVENT REPORT
GREAT. AMAZING. EXCELLENT. INSPIRING.

God is at work not only in the workplace through believers, but also at events such as the recent ELO Forum in Toronto last Thursday, November 22nd. There was a palpable sense that God was at work, impacting the hearts and minds of attendees.
The response of the gathering was enthusiastically positive. Some representative comments are as follows: "Great inspiration and motivational speakers." "It's great to see how business leaders incorporate faith into their business." "Great spirit." "Very relevant!" "Inspiring and motivational." "High quality of speakers; inspirational and insightful." "It's a great learning opportunity and the networking is great." "Great time, great speakers, great message." "Speakers were inspirational and challenging."
Speakers shared authentically about ups and downs, highs and lows, but most importantly how they are striving to make a Kingdom-difference in the marketplace. In our secular society, the stories of God at Work are rarely told—but they are at this event, where like-minded people gather together to share their experiences.
The ELO Forums are unique, and attendees constantly comment on that fact. There is an element of "community" and "fellowship" among Christian business leaders that is rarely, if ever, found elsewhere. There is a positive energy in the room, people are getting connected to one other, there is authenticity and transparency, there is support and encouragement for those making a difference.
There are people clustered together for prayer during breaks and we even permit people to shout out "Amens" (in a manner constrained or propelled by one's denominational background, of course). This simply underscores the point that the line between business and church is blurred, or non-existent. In other words, work is workship and work is where people are called and are making a difference.
Attendees came from throughout the Greater Toronto Area, southern Ontario, Quebec and from both ends of the country, including Nova Scotia and British Columbia. Here is a representative sampling of feedback:
"it is inspiring to meet and hear so many people of faith who do their work with competence and heart! I recommend this event highly." – David Iremadze, St. Mary's University, Halifax, NS
"Great inspirational stories of faith. Good for me to reset my business and faith." – Scott Brown, CEO, Qwest Homes/Envirowest, London, ON
"A strong lineup of speakers. Great theme throughout. Glad to have been there." – Ian Daniel, NCOL Internet, Vancouver, BC
"I found the event to be really encouraging to see how many Christians are engaging in the workplace and can have such a positive influence in the workplace and world." – Chris Schouten, Tebulo Robotics, Hamilton, ON
"Excellent as always. All great speakers. Congratulations." – Dave Brereton, Chairman, TECSYS, Montreal, QC
"It is a tremendous and inspirational event." – Andrew Wildeboer, Royal LePage, Orangeville, ON
"Great event, great people, great food & dessert." – Jay Lee, Radical Business Growth, Toronto, ON
"The speakers were inspirational and challenging." - Ralph Loewen, Itergy, Montreal, QC
"Great conference & great speakers! Will come again." – Scott Hisey, Hisey Homes, Oakville, ON
"I would definitely recommend this event. I've now been here three years and I am always inspired." – Kerri Pope, Martinrea International, Vaughan, ON
Attendees were appreciative of the stellar line-up of presenters. Richard (Rick) J. Goossen, Chairman, ELO, was MC and host of the Forum. John Carbrey, a much-awarded whizkid, now ripened in his early 30s, spoke of his career in high tech starting in his teens. He built Intrafinity and SharpSchool and sold to West Corp, a large US company. The sale of his business, then was intertwined with his identity, was a traumatic event. He shared about current trends in high-tech.
Rachel Ong, Rohei, Singapore talked enthusiastically about honouring God in the marketplace. She shared practically about having an impact on a range of stakeholders, from employees to suppliers. Michael Gibney, founder, Genesis Robotics, was recently recognized by Royal Bank of Canada as the top "exit" of 2018 with a 32x return. He spoke about the core values of his Christian-grounded approach to business.
Peter Hall, Chief Economist, Export Development Corp., delivered with aplomb an economic prognostication for 2018 and beyond. Peter is not only one of the top economists in Canada, but likely one of the top presenters within the economists' community. John Izzo, a widely-published author, delivered the evening keynote on "the purpose revolution" and its impact in the marketpace.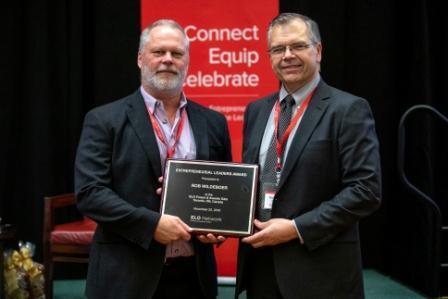 Lastly, Rick Goossen did a Q & A with Rob Wildeboer, Co-founder and Chairman, Martinrea, which generated about $4 billion/year and has 15,000 employees. Rob talked about vision, mission and values and building corporate culture. He talked about how he integrates the golden rule and his faith into his business practices. Rob was later presented with the "Entrepreneurial Leaders Award" in recognition of his track record of marking a positive difference from a Christian worldview perspective in spheres of business, non-profits, church and society.
In short, this year's event met the goal of each Forum: to connect, equip and celebrate the Christian marketplace and entrepreneurial leaders. Attendees got connected. Many remarked on the great opportunities for networking. People were equipped—a clear message of how to make a difference in the marketplace. People were celebrating a Christian entrepreneurial spirit A number of people said that there were inspired and motivated. People noted how they were emotionally and spiritually impacted.
Here is a representative sample of additional feedback:
"I would recommend this event; it is important that Christian business owners/staff have an opportunity to meet and hear how God has greatly influenced their businesses." – George Grbic, 360 Socialytes Inc., Newmarket, ON
"Great event. Really enjoy the fellowship and inspiration of faithful leaders." – Ian DeWaard, CLAC, Cambridge, ON
"Guests and speakers were fantastic. I needed more paper to note stand out quotes and meaningful content." – Anne Deboer, Skyline Contracting, Wainfleet, ON
"Valuable time spent learning and connecting. Great speakers." – Chris Van Bertel, Royal LePage, Ancaster, ON
"Helpful and relatable, current perspectives to assist today's entrepreneur in their walk with their savior." – Jon Lootens, Tupelo Furniture, Guelph, ON
"Thank you for such a refreshing insight into how my Christian purpose speaks volumes in my industry and workplace." – Anne-Marie May, Alpha Marketing, Markham, ON
"An amazing experience that opened my eyes to how much a company can make a difference in the community! Has filled my heart with passion and enlightenment in what God has planned in my life!" – Natalia Hofland, Bramalea Paint & Wallpaper, Brampton, ON
"Great event, lots of great takeaways and inspiration. Well done!" – Bill Van Vliet, CIO, Book Depot, Thorold, ON
"Very impactful presentations that reminded me of the importance we have as business leaders in the community." – Dimitri Boweya, Sans Fawn, Toronto, ON