Afternoon Speaker: Casey Houweling - "How To Be An Innovator: Lessons from the Hot House"Register Now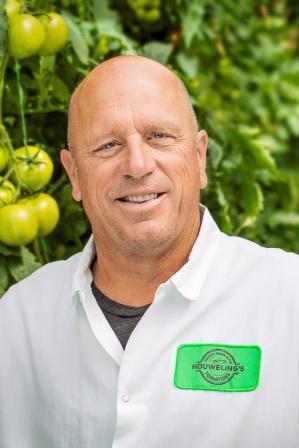 Topic: "How To Be An Innovator: Lessons from the Hot House"
Casey Houweling, Chairman, Houweling's Group, Delta, BC - Casey is responsible for the Growing oversight for the Houweling's Group of Companies. Casey brings the entrepreneurial spirit and extensive greenhouse experience learned over his 35 years working in his father's, and now his family's Company. Casey led the company from floral nursery roots in British Columbia, Canada to greenhouse vegetable farming, ultimately expanding with the USA farming operations in California and Utah. Additionally, Casey provides consulting services to other Greenhouse Growers located around the world and has developed and patented industry advancing proprietary, sustainable growing technologies.
Casey Houweling is a visionary. From the time he was a small boy pruning and picking his father's vegetables, Casey has known what he wanted to do with his life. He wanted to be a farmer, but not a traditional one. Now in his 50's, he heads one of the most technically-advanced and environmentally-friendly greenhouse operations in the world.
"Growing the best tomatoes doesn't come easy," he likes to say. And he is quick to add that there are no shortcuts in craftsmanship. A man is known for his work ethic, Casey's dedication to quality is rooted in his deep respect for his father's commitment to quality. The passion for growing the best tomatoes is in the blood. It's as simple as that, and those who know the Houweling's operation can attest to the fact that craftsman's care extends beyond Casey Houweling. It permeates the entire operation – from seeding and propagation through sales and service
In a world where companies expand through broad and sometimes reckless diversification, Casey believes in specializing in one business – greenhouse tomatoes. The specialist philosophy isn't new; it's quite simple, really. He believes that focus and attention to one category (tomatoes) versus an array of fruits and vegetables is critical to enhancing one's know-how. Ultimately, know-how and passion are the keys to quality.
Houweling's has a rich history of innovation in the greenhouse industry both in North America and Internationally. In more than 35 years of existence, Houwelings have established significant achievements including:
The first large-scale commercial greenhouse in the lower mainland of British Columbia. The first large-scale vegetable greenhouse in CaliforniaThe development, design and construction of the Ultra-Clima® greenhouse, a "pressurized closed greenhouse" structure for use in hot and arid climates.The first USA installation of a cogeneration power system. A new 8.8-megawatt combined-heat-and-power technology.Commercialization of tomato plant grafting used in large-scale commercial plant propagation
These are just a few examples of why Houweling's continues to be recognized as an industry leader.